The Tax-Free First Home Savings Account (FHSA) will make it easier for Canadians to buy their first home in an era where the average cost of a home keeps inching closer to $1 million.
As proposed in the 2022 Federal Budget, first-time homebuyers can save up to $40,000 tax-free for a downpayment on a home.
Read on to learn how the FHSA will work based on what we know so far.
What is the First Home Savings Account (FHSA)?
The Tax-Free First Home Savings Account combines two of the best features of other popular registered accounts in Canada – the TFSA and RRSP.
Like the TFSA, your contributions, as well as investment gains, will remain tax-free. And like the RRSP, your contributions are tax-deductible and lower your taxable income.
If you are a first-time homebuyer, you can contribute up to $40,000 in an FHSA and put the funds towards purchasing a home.
The maximum annual contribution limit is $8,000, and Canadians can open an account starting on April 1, 2023.
How Does The First Home Savings Account Work?
To be eligible to open an FHSA, you must be a resident of Canada and at least 18 years of age.
Also, you must not have owned a home in the year you open an FHSA account or in the preceding four calendar years.
When the tax-free First Home Savings Account was first proposed by the Liberals in 2021, there was a maximum age threshold of 40 years; however, this age limit has been removed.
FHSA Limits
If you do not make the full $8,000 contribution limit in one year, you can carry forward your unused contribution room to future years, up to a maximum of $8,000.
For example, if you contribute $5,000 in 2023, you will be able to contribute the remaining $3,000 next year on top of your $8,000 contribution limit in 2024, for a total of $11,000.
After contributing the full $40,000, you can make no further contributions.
And after withdrawing funds from your FHSA, you must close the account by December 31 of the following year.
Like the TFSA and RRSP, you can open multiple FHSAs at various financial institutions, subject to the annual and lifetime maximum contributions.
Lastly, an FHSA can be open for up to 15 years, after which the funds must be withdrawn.
FHSA Canada Transfers
If you no longer need the money in your FHSA to buy a home, you can transfer the funds to an RRSP or a Registered Retirement Income Fund (RRIF) on a tax-deferred basis. You are not required to have contribution room in these accounts.
If you withdraw FHSA for other purposes, i.e. a non-qualifying withdrawal, the amount is included in your taxable income for the year.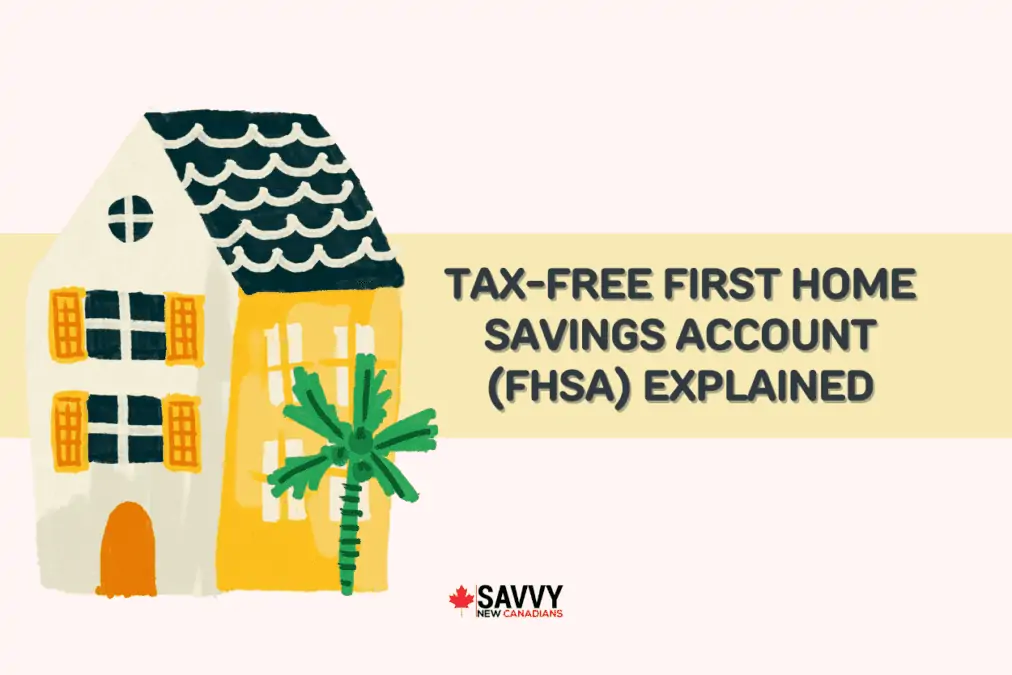 Is the FHSA Taxable?
No, the FHSA is not taxable.
The government's goal is to make it easier for Canadians to save money they can use to buy a home.
Your contributions grow tax-free, and you also get a tax deduction.
In some cases, FHSA withdrawals become taxable, such as when you withdraw funds for purposes other than a home purchase.
First Home Savings Account Investments
You can hold cash in your FHSA, i.e. use it as a savings account, or invest in a variety of investment assets, including:
Stocks
Guaranteed Investment Certificates (GICs)
Mutual funds
If you are looking at buying a home within a 1-3 year time frame, a high-interest savings account or GIC is a safer bet.
First Home Savings Account vs. Home Buyers Plan
The Home Buyers' Plan (HBP) allows Canadians to borrow up to $35,000 from their RRSP to buy a home. This withdrawal is also tax-free, but it has to be paid back within 15 years, or you will face penalties.
A couple can withdraw up to $70,000 through the HBP when buying their first home (i.e. $35,000 x 2).
The FHSA is not paid back, and a couple can save/contribute up to $80,000 (i.e. $40,000 x 2).
Based on currently available information, you can use both the FHSA and HBP when buying a home.
Here are some of the other measures that have been proposed to make housing more affordable in Canada.
Related: How To Buy a Home in Canada.