EQ Bank has partnered with TransferWise (now rebranded as Wise) to offer low-cost international money transfers, and it's a big win for the many Canadians who send money abroad.
Money transfers conducted through traditional banks can be expensive. You pay a fairly hefty fine on top of an exchange rate that is neither competitive nor transparent.
With EQ Bank and Wise, you get two financial institutions that are noted for providing their customers with low- to no-fee banking options.
This post covers how you can enjoy the partnership between EQ Bank and Wise and save money in the process.
EQ Bank Savings Plus Account
EQ Bank offers one of the best non-promotional savings account rates in Canada. Their savings plus account offers:
Zero everyday banking fees
Unlimited free transactions, including bill payments and electronic fund transfers
High-interest savings rate (2.50%*)
Unlimited Interac e-Transfers®
No minimum monthly balance
Mobile cheque deposits
CDIC deposit eligibility
Cheap international money transfers via TransferWise
EQ Bank is the digital banking arm of Equitable Bank, a federally regulated Schedule I bank with more than $42 billion in assets under management.
Similar to some of the other online-only banks in Canada, EQ Bank customers can conduct all their transactions using the mobile app or their online account. Phone support is also available 7 days a week.
For more information about the bank, read my complete EQ Bank review.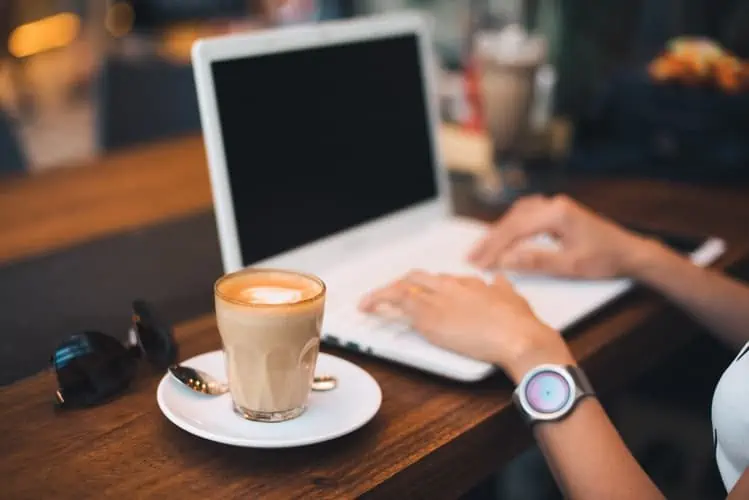 What is Wise (formerly TransferWise)?
Wise is a revolutionary money transfer platform that was founded in 2011. The company has offices on five continents and over 1,300 employees.
By simplifying the process of sending and receiving foreign currencies and cutting out unnecessary middlemen, TransferWise can do away with ridiculous fees.
Here's what you get with a Wise account:
Lower fees to send money abroad (as much as 8x cheaper than the big banks)
Transparent mid-market (real) exchange rate
No hidden fees
A multi-currency Borderless Account that holds 40+ currencies
They are registered with the Financial Transactions and Reports Analysis Centre of Canada (FINTRAC) and Authorite des Marches Financiers
You can read more about Wise in this review.
How To Send Money Abroad With EQ Bank and Wise
Wise recently developed its Wise for Banks API, which makes it easy for banks and credit unions to integrate with their online platforms and offer cheap international money transfers to their customers.
EQ Bank is the first Canadian bank to integrate Wise's API into its infrastructure.
This partnership offers bank customers a seamless way to send money abroad for much cheaper while also earning top-dollar on their savings account balance (2.00%* interest rate as of this update).
Your transfer often occurs instantly or in a few days (depending on its final destination), and you can complete your entire transaction using EQ Bank's highly-rated mobile app or your online account.
Currently, 17 currencies are supported and 46 countries. You can transfer up to $9,500 within a 24-hour period.
How Much Can You Save in Fees?
How much money are you saving in fees when you use EQ Bank and a low-cost money transfer platform like Wise?
As of today (June 9, 2021), if I were to send $500 CAD through EQ Bank to a friend in the U.S., the following rates and charges would apply: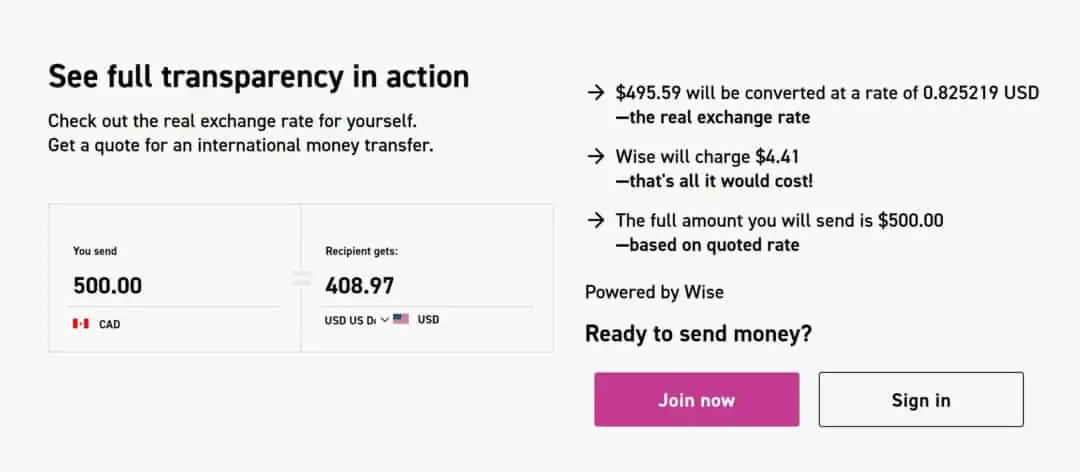 I would pay a $4.41 fee and get a competitive mid-market exchange rate at 1 CAD = 0.825219 USD.
How does this fee compare to the big banks?
The sample table below is provided by EQ Bank and shows you the huge difference in fees using various big banks: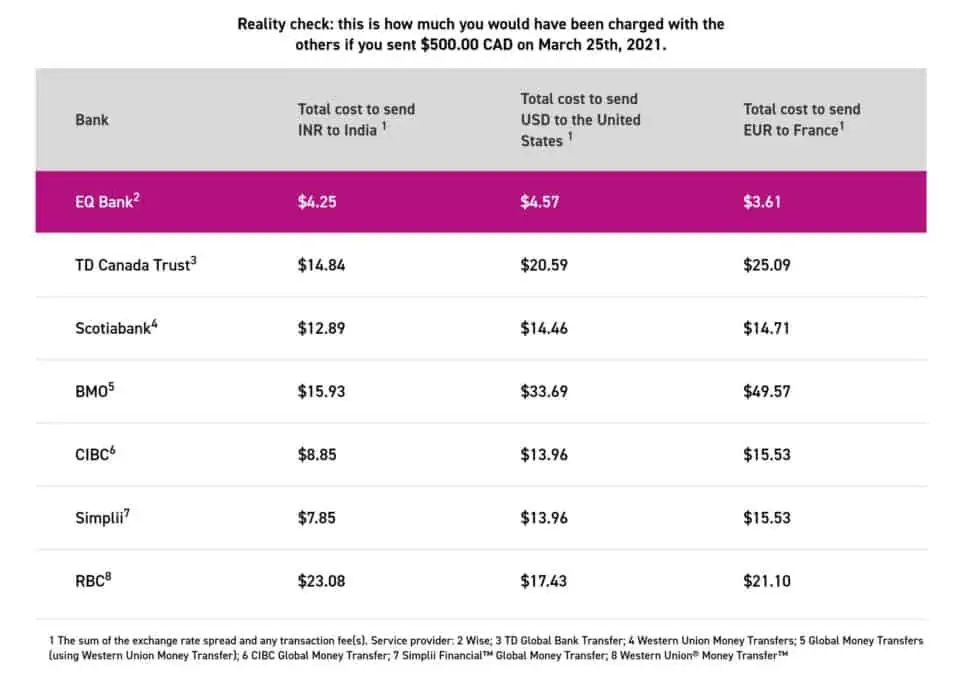 As of March 25, 2021, you would have saved more than $16 in fees by sending $500 to the U.S. through EQ Bank compared to TD Canada Trust and about $29 compared to BMO.
Related Posts:
Conclusion
Canadians lose billions of dollars in money transfer fees every year.
However, a ton of savings can be had by avoiding the big banks and going with EQ bank for your money transfers to relatives and friends.
In addition to sending money internationally for cheap, EQ bank also offers a high-interest savings rate that keeps your money working for you.