DoorDash operates one of the best food delivery services in Canada and the United States.
Using the DoorDash app, you can get food from thousands of restaurants and fast-food chains delivered to your doorstep within minutes.
And, when you sign up using a valid DoorDash promo code (link applies code automatically), you get a total of $45 off your first 3 orders.
Existing DoorDash customers can also save on food orders using exclusive DoorDash promotions and coupons that are made available every now and then.
DoorDash Promo Code Canada
DoorDash offers promo codes and coupons you can use on your next order.
If you are a new DoorDash user, you can sign up here to have a $45 credit applied to your balance.
Here is how it works:
Sign up for DoorDash (link applies the promo code automatically)
Select a restaurant and purchase food.
You get $15 off your first 3 orders for a total of $45 off. Each order must be over $30.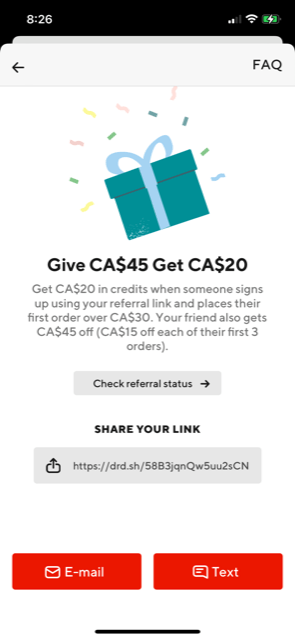 About DoorDash
DoorDash is one of the largest food delivery companies in the world.
It was founded in 2013 in the U.S. and expanded to Canada in 2019.
The platform has partnerships with thousands of restaurants and merchants including Tim Hortons, Burger King, Popeyes, Pizza Pizza, Subway, McDonald's, and A&W.
How Does DoorDash Work?
Ordering food using DoorDash is simple. You can place your order using the website or app.
Search for your favorite retailer and pick what you want to eat from their menu.
When your order is finalized, pay using Apple Pay, PayPal, or credit card. A DoorDash driver picks up your food and delivers it to your door.
DoorDash vs. Skip The Dishes Codes
Skip The Dishes is a Canadian online food delivery service founded in 2012. It has partnerships with more than 16,000 restaurants across the country.
New customers can use our Skip The Dishes promo code (link applies code automatically) to get a $5 cash bonus.
You can also learn more about Skip rewards.
DoorDash Promo Code FAQs
How do I get $15 off DoorDash?
Sign up for a new DoorDash account using this link to get $15 off your first 3 orders of $25 or more.
Does DoorDash offer promo codes?
Yes, DoorDash offers coupons and promo codes you can use to save on food orders.
Are DoorDash coupons valid?
Many of the DoorDash coupons you will find online are not valid. To enjoy a discount, make sure you sign up via a valid link.
What is this DoorDash promotion worth?
The DoorDash promo link above gets you up to $45 off your purchases.
Does DoorDash have a referral program?
Yes, DoorDash users can invite their friends to join and get $20 per referral.
Can I combine DoorDash coupon codes?
No, you can only apply one DoorDash promotion or coupon per time. Offers cannot be combined.
Related reading: