Coinsquare is one of the oldest cryptocurrency exchange platforms in Canada.
Founded in 2014, the platform supports the trading of several digital currencies including Bitcoin, Dogecoin, Ripple, Stellar, and Ethereum.
When you open a new account using our Coinsquare referral code (8jD1M) or referral link, you receive $10 worth of Bitcoin after depositing at least $100.
Read on to learn about how Coinsquare works.
How Coinsquare Works
Coinsquare caters to both newbies and experienced traders.
If you are new to crypto, you can use its "Quick Trade" platform to place fast one-click trades.
If you are an experienced Crypto trader, you can use the "Advanced Trade" option and gain access to advanced charting tools and order types.
If you are buying a lot of crypto's, you can use Coinsquare Wealth to access the OTC (Over-the-Counter) market.
To get started on Coinsquare, sign up here.
You will need to verify your phone number and your identity. Typically, the verification is instant, however, in some instances, you may need to upload copies of supporting documentation (e.g., government-issued ID and/or utility bill).
When your account is fully verified, you can fund it using Interac e-Transfer, bank wire transfer, or crypto.
The coins available on Coinsquare are:
Bitcoin (BTC)
Ethereum (ETH)
Litecoin (LTC)
Dogecoin (DOGE)
Bitcoin Cash (BCH)
Bitcoin Cash SV (BSV)
Dash (DASH)
Ripple (XRP)
Ethereum Classic (ETC)
Stellar (XLM)
Related: Best Crypto Wallets.
Best Crypto Exchange in Canada – CoinSmart
CoinSmart Crypto Exchange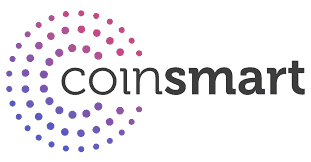 Top crypto exchange in Canada
Great for new & advanced traders
0.20% trading fee
Get a $30 bonus when you deposit $100
Coinsquare Referral Program
Coinsquare gives you $10 worth of BTC when you sign up using a valid referral link or code (8jD1M).
For the bonus to apply, you must verify your account and deposit at least $100 in fiat.
Coinsquare users also earn rewards when they invite others using their referral link.
For each friend that joins through your referral link, you get a $10 BTC bonus. In addition, you will receive a percentage of the commissions they pay (up to 45%).
Coinsquare Fees
Trading fees on Coinsquare are as follows:
Bit Markets: 0.10% to 0.20%
Quick Trade: 0.20% to 0.40%
There are no fees to deposit Canadian dollars.
For U.S. dollar funds, deposit fees range from 0.25% to 0.50%.
When withdrawing CAD fiat, you pay:
Bank deposit: 2%
Wire transfer: 2%
Wealth wire: 1%
Rushed wire: 2%
Related: Wealthsimple Crypto Referral Code
Pros of Coinsquare
Supports 10 coins
Versatile platform for newbies and pros
Supports CAD and USD fiat
Available on desktop and mobile devices
Offers instant verification for new clients
Cons of Coinsquare
Costly withdrawals fees for fiat
Trading fees are not the cheapest (see Coinsmart)
Has been penalized by the government in the past
Is Coinsquare Safe and Legit?
Cryptocurrency trading is very risky and you could lose your entire capital!
That said, Coinsquare is a registered Money Service Business in Canada subject to FINTRAC regulations.
As per its website, it has a "95% cold storage policy on all digital currencies".
If you are serious about crypto, you probably want to own your own cold wallet e.g. Ledger Wallet.
Some Coinsquare execs were accused of conducting wash trades between July 2018 and December 2019. They were fined by the Ontario Securities Commission and have since resigned from the company.
Crypto Trading App Referral Bonus
You earn welcome bonuses when you open an account at these crypto trading platforms and meet the eligibility criteria:
Coinsmart: Get a $30 bonus when you fund with $100. Coinsmart has a competitive fee schedule and supports multiple crypto coins. Read our review to learn about the best crypto exchange in Canada.
Bitbuy: This platform supports 15 coins and has a 0.10% to 0.20% trading fee. You get a $40 bonus after making an initial deposit of $250 or more. Read our review.
Wealthsimple Crypto: Get a cash bonus when you trade at least $300 worth of crypto. Wealthsimple Crypto offers Bitcoin, Ethereum, and several other coins. Learn more.
NDAX: This crypto exchange supports 30 different coins including Dogecoin. Get a $10 bonus when you deposit $100 or more. Read our review.