Costco members can now earn more cash back using their Costco Mastercard to buy gas or shop online at Costo.ca.
If you previously had a Capital One Costco Mastercard, you already know that CIBC replaced Capital One in March 2022, and existing customers were issued new cards.
This CIBC Costco Mastercard review covers what it offers in benefits, as well as all the features you can expect to enjoy.
CIBC Costco Mastercard- At a Glance
Rewards: 3% cash back at restaurants and Costco gas; 2% cash back at other gas stations and Costco.ca; 1% cash back on everything else.
Interest rates: 19.75% for purchases and 21.49% for cash advances.
Insurance: Mobile device insurance, purchase security, and extended warranty benefit.
Annual fee: $0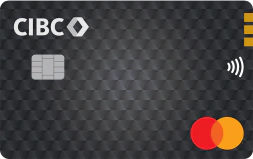 CIBC Costco Mastercard Benefits
Like its predecessor, the CIBC Costco Mastercard does not have an annual fee. It offers cash back on all your spending as follows:
3% cash back: When you eat at restaurants or purchase gas at a Costco gas station, you earn 3% cash back.
2% cash back: Earn 2% in cash back rewards on gas purchases at non-Costco gas stations and when you shop online at Costco.ca.
1% cash back: Cardholders earn an unlimited 1% cash back on all other purchases, including Costco.
The cash back you can earn on gas purchases (3% at Costco Gas and 2% elsewhere) is limited to a maximum spending of $5,000 per year. Additional spending on gas above this threshold earns 1% cash back.
Also, online purchases at Costco.ca will only earn 2% cash back up to a maximum spending of $8,000 per year. After you meet this threshold, all other online purchases at the merchant earn 1% cash back rewards.
CIBC Costco Mastercard Insurance
The new card offers mobile device insurance for personal mobile devices, including your smartphone or tablet.
This benefit provides up to $1,000 coverage if the device becomes lost, stolen, or damaged within two years of purchasing it.
Like the Capital One Card, the CIBC Costco Mastercard maintains these benefits:
Purchase security: Items you buy can be replaced or repaired if they become lost, stolen, or damaged within 90 days of purchase.
Extended warranty: This extends the manufacturer's warranty by up to one extra year.
Other Features
Costco members will continue to be able to use the new card as their membership card, and they can also upgrade to the CIBC Costco World Mastercard.
If you want to buy a big-ticket item at Costco, you will have access to CIBC Pace It Installment Plans.
When you use the CIBC Costco Mastercard to pay for your purchase, special installment rates are available as follows:
4.99% for 6 months
5.99% for 12 months
6.99% for 24 months
You can send money internationally using your card via CIBC Global Money Transfer. There are no transaction fees, and you can send up to $12,000. To avoid interest fees, ensure you pay off your balance within the grace period.
To proceed with an international money transfer as a Costco cardholder, simply use the CIBC app or log in on the website.
Your recipient can receive payment through their bank account, Visa debit or credit card, a MoneyGram cash pickup location, and more.
Related:
Downsides of the CIBC Costco Mastercard
As already noted, there are spending caps for gas and online Costco.ca purchases, which limit how much cash back you can earn at the 3% and 2% reward rates.
The new Costco Mastercard does not offer a welcome bonus, and you will need to wait until January to redeem the cash back you have accumulated.
A Costco cash back gift card certificate is issued once a year in January with the amount of cash back you earned in the previous year.
Lastly, the new branding means you must register for CIBC Online Banking and download the CIBC Mobile Banking app to pay your credit card bill.
While this account is free, it is another bank account you now need to manage.
Capital One vs. CIBC Costco Mastercard
If you had the old Capital One card, CIBC automatically issued the new one in the mail in 2022. The old Capital One Costco Mastercard currently offered:
3% cash back on restaurant purchases
2% cash back on gas purchases
Up to 1% cash back on all other purchases
The 1% cash back category included Costco purchases, and you only earned 0.50% back on your first $3,000 in purchases.
It also doubled as your membership card.
Best Costco Mastercard Alternatives
Top Costco credit cards include the National Bank World Elite Mastercard and Rogers World Elite Mastercard credit cards.
You can also use the credit cards below to earn competitive cash back on various purchases.
Neo Credit Mastercard (Standard)
Rewards: Average of 5% cash back at 10,000+ partners and a minimum of 0.50% cash back across all purchases
Welcome offer: Get 15% cash back on your first purchases, plus a $25 welcome cash bonus.
Interest rates: 19.99% – 29.99% on purchases; 22.99% – 31.99% for cash advances.
Annual fee: $0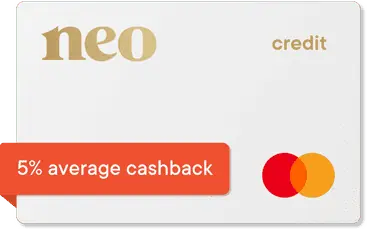 Tangerine Money-Back Credit Card
Rewards: Earn up to 2% unlimited cash back in up to 3 spending categories and 0.50% on all other purchases.
Welcome offer: Get an extra 10% cash back on up to $1,000 in spending in the first 2 months ($100 value); 1.95% balance transfer rate for 6 months.
Interest rates: 19.95% for purchases, balance transfers, and cash advances.
Annual fee: $0
If you have a $60,000 income, you can also look at the Tangerine World Mastercard. It offers the same cash back rewards as the entry-level Tangerine credit card, plus:
No annual fees
Mobile device insurance
Rental car insurance
Mastercard Airport Experiences provided by Loungekey complimentary membership
Access to free Boingo Wi-Fi around the world
Learn more in this review.
Related: