The savings account rates offered by the big five banks are not very competitive. With savings rates ranging from 0.01% to 1.80%, you are not getting much in return.
CI Direct Investing recently joined the ranks of financial institutions offering non-promotional high interest rates. Its HISA account has no fees, no minimums, and transactions are free.
Read on to learn about CI Direct Investing's high-interest savings account, what you get, and how it compares to alternatives.
About CI Direct Investing
CI Direct Investing is a subsidiary of CI Financial, one of the largest investment companies in Canada.
Formerly known as WealthBar, CI Direct Investing offers everyday Canadians access to professionally managed ETF investment portfolios at a low cost.
It also offers socially responsible investment (SRI) portfolios, financial planning, retirement planning, and a free savings account.
As of this writing, CI Direct Investing held over $700 million in assets under management.
CI Direct Investing High-Interest Savings Account
In addition to its investment portfolios, the company also offers a high-interest savings account (HISA) you can open online within minutes.
A savings account is great for holding your emergency funds and for saving towards short-term financial goals, such as a home downpayment, wedding, car purchase, etc.
Features of the CI Direct Investing HISA include:
A non-promotional interest rate of 3.75%
No account minimum balance
No account fees
Unlimited deposits and withdrawals
The interest rate is per year, and it is calculated daily and paid out monthly.
Your savings account balance counts towards your overall assets held by CI Direct Investing and may lower the management fees you pay on your investment portfolio.
Is a CI Direct Investing HISA Safe?
CI Direct Investing keeps your funds with one of its custodians:
National Bank Independent Network
CI Investment Services, and
Credential QTrade Securities
These financial institutions are members of the Investments Industry Regulatory Organisation of Canada (IIROC).
They are also members of the Canadian Investor Protection Fund (CIPF), which protects your cash and securities up to $1,000,000.
Benefits of a CI Direct High Interest Savings Account
This savings account puts your money to work and offers these benefits:
A high non-promotional interest rate that beats what many of the big banks are offering
Quick and easy access to your funds when you need it
A no-fee account with unlimited free deposits and withdrawals
Your savings balance can lower the investment fees you pay for portfolio management
CIPF protection against insolvency up to $1 million
Access to free financial advice
Downsides of a CI Direct High Interest Savings Account
A few shortcomings of this account are:
It is not available in registered accounts, e.g. TFSA and RRSP. For a savings ETF you can hold in your registered account, CI Investments offers the CI First Asset High Interest Savings ETF (CSAV).
Corporate or business savings are not currently offered
It is only available in Canadian dollars
Some online banks offer higher rates
CI Direct Investing HISA vs. EQ Bank
EQ Bank Savings Plus Account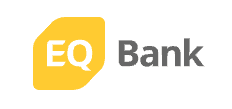 2.50%* non-promotional interest rate
Unlimited debits and bill payments
Unlimited Interac e-Transfers
No monthly account fees
EQ Bank is the online banking of Equitable Bank. Its high interest savings account has the following features:
Non-promotional interest rate
No monthly fees or minimum balance
Free unlimited transactions and Interac e-Transfers
Free mobile cheque deposits
TFSA and RSP accounts
In addition to savings accounts, EQ Bank also offers Guaranteed Investment Certificates (GICs), a US Dollar account, international money transfers, and a joint account.
CI Direct Investing HISA vs. Tangerine
Tangerine Bank is the online subsidiary of Scotiabank. It offers a high interest savings account with the following features:
No monthly fee and no minimum balance
1.00% regular savings rate
Access to registered accounts such as RRSP, RRIF, TFSA, and US$ savings.
Both CI Direct Investing and Tangerine may vary the interest rate they offer based on the benchmark rates announced by the Bank of Canada.
Tangerine Bank also offers Investment Funds and portfolios.
CI Direct Investing HISA vs. KOHO
KOHO users can access a free reloadable prepaid card that pays up to 5% cash back on purchases and offers unlimited free Interac e-Transfers.
Your entire balance earns interest at a 0.50% to 2.00% rate.
This account also has a free budgeting app that can help you save money automatically by rounding up your purchases and saving the difference. You can also set savings goals.
Read my KOHO review.
Rates as of April 13, 2022.
CI High Interest Savings vs. EQ Bank vs. Tangerine
CI HISA
EQ Bank HISA
Tangerine HISA
Wealthsimple Save
Savings Interest rate
3.75%
2.50%
1.00%
1.50%
Monthly account fee
$0
$0
$0
$0
Transaction fee
Unlimited withdrawals and deposits
Unlimited debits, Interac e-Transfers, and withdrawals
Unlimited withdrawals
Unlimited withdrawals
Joint account
No
Yes
Yes
Yes
Registered accounts
No
RRSP, TFSA, GICs
RRSP, RRIF, TFSA, RESP
No
Other products
Low-cost ETF portfolios in reg. & non-reg accounts, free financial planning, SRIs, CIPF protection
Free mobile cheque deposits, GICs, reg. & non-reg. accounts, cheap international money transfer, mobile app, CDIC protection
Investment funds, no-fee chequing account, CDIC protection, mobile app
Low-cost ETF portfolios, SRIs, cryptocurrency trading, no-fee brokerage platform, mobile app
Review
–
Apply
Learn more
Learn more
Conclusion
A high-interest savings account can help you to grow your savings and maintain the purchasing power of your funds to a large extent.
For longer-term financial goals, you may benefit from investing your funds using ETFs inside a portfolio designed to match your risk tolerance.
CI High Interest Savings Account Review
Summary
A CI Direct Investing high interest savings account (HISA) offers a rate that beats many of the big banks. Learn more about the CI high interest savings account and what it offers.