Ontario is one of the most expensive places to rent or buy a house in Canada. It is the largest province in all of Canada, with a population of over 14.7 million.
Many cities in the Greater Toronto Area are costly; however, there are a few cities and towns with a cheaper-than-average cost of living.
This article details the top 10 most affordable cities in Ontario, in order from least to most expensive.
1. Rainy River
Average rent cost: there are no apartments for rent as it is a very small town, but you can rent a private cottage for less than $1000
Average cost of buying a house: $327,795
Cost of living: not specified
Population: 1,000
Just a three-hour drive southeast of Winnipeg, Rainy River is a small town in northwestern Ontario. It is situated on the Rainy River, which forms part of the Ontario-Minnesota US-Canada border.
It is quite affordable, as it has a 37% lower average cost of living than the Ontario average.
Rainy River is a transportation center with the Canadian National Railways. Grain, fuel, and lumber are shipped through the town.
It is also home to Hannam Park, located on the shores of the Rainy River. It is a great family vacation destination with a beach, playground, and volleyball court.
2. Deep River
Deep River is a small town with streets following natural land contours in Renfrew County, Ontario.
Located along the Ottawa River, 200 kilometres northwest of Ottawa, Deep River has an average cost of living 27% lower than the Ontario average.
The name "Deep River" comes from the Ottawa River, which reaches its greatest depth just outside the town.
3. Peterborough
Peterborough is a city in Central Ontario within the Kawartha Lakes region. Known as the gateway to the Kawarthas, or "cottage country,"
Peterborough is located on the Otonabee River. In 1884, it became the first city in Canada with electric street lighting and was nicknamed "The Electric City."
This name also comes from a long association of Canadian General Electric Corporation with the city.
4. Sault Ste. Marie
Located in south-central Ontario on the St. Marys River close to the Canada-US border, Sault Ste. Marie is the third-largest city in Northern Ontario after Sudbury and Thunder Bay.
It is known for the Sault Ste. Marie Canal, which was built in the 19th century, and is bordered by red sandstone buildings.
The growth of this city is associated with the rapids, locks, and canals around them.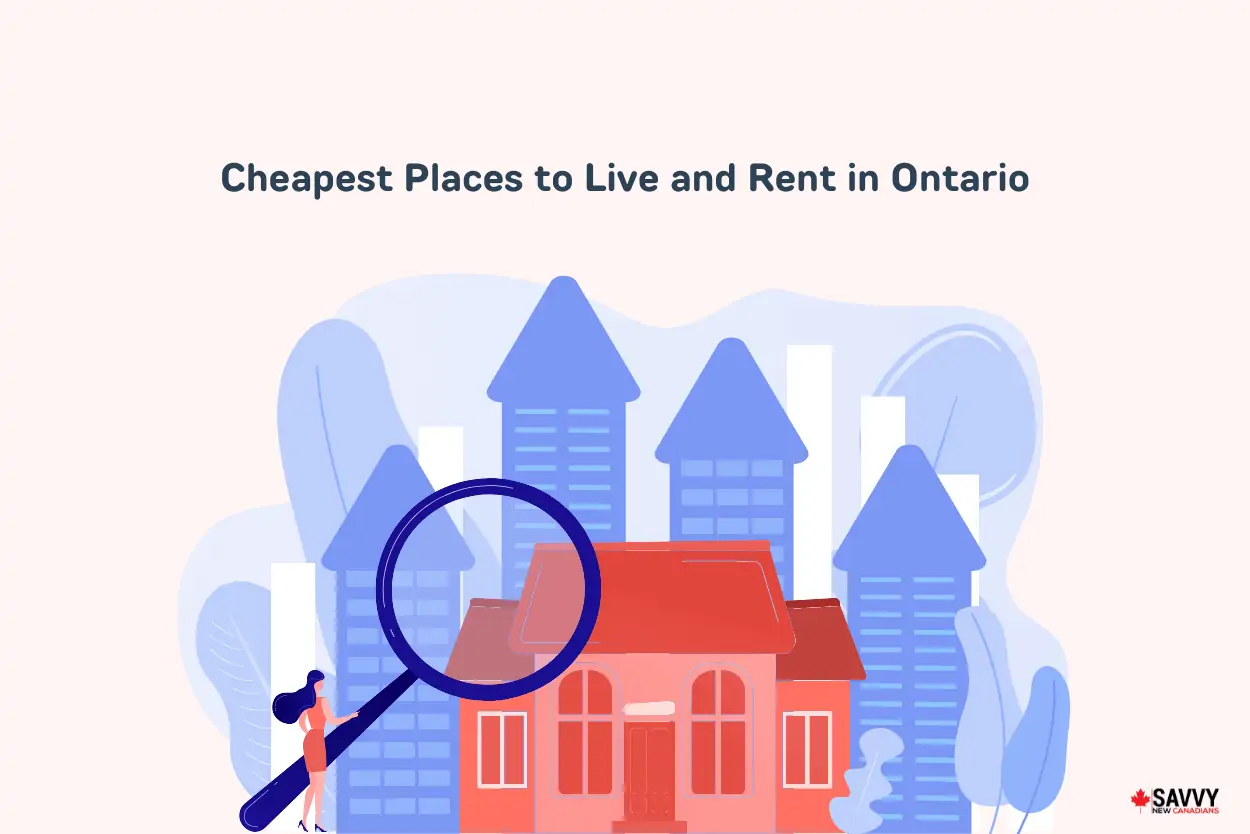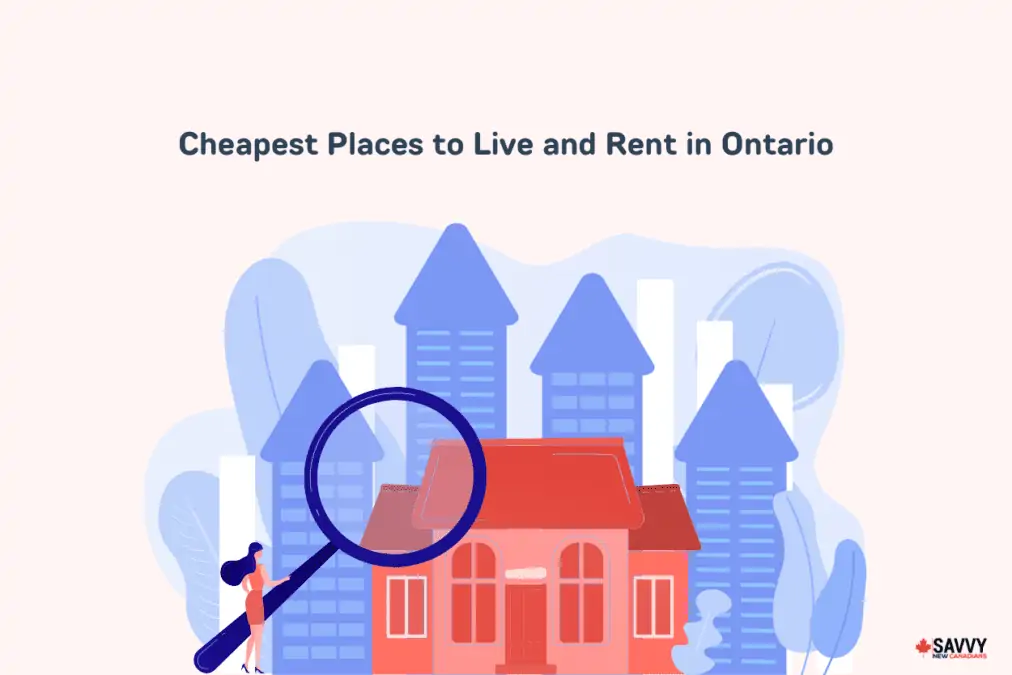 5. Kingston
Halfway between Montreal and Toronto, Kingston is located at the beginning of the St Lawrence River, at the eastern end of Lake Ontario.
It is also located near the Prince Edward Country tourist region to the west and the Thousand Islands tourist region to the east.
Kingston is nicknamed "Limestone City" because there are heritage buildings made out of local limestone.
It was also named the first capital of the United Province of Canada and has remained an important military installation.
6. Windsor
Average rent cost: $1,473 for 1 bedroom, $1,818 for 2 bedrooms
Average cost of buying a house: $602,809
Cost of living: $1,204.70 (per month for a single person, without rent)
Population: 233,000
Located on the left (south) bank of the Detroit River, opposite Detroit, Michigan, Windsor has the most affordable rent of 15 Ontario cities, according to Rentals.ca.
It is an important railway terminal and a Great Lakes port of entry from the US.
Known as the "Automotive Capital of Canada," Windsor's industrial and manufacturing heritage made the city develop how it has throughout the years.
It is also home to Caesars Casino and is a rich farming area producing fruit, veggies, corn, soybeans, and more.
7. Sarnia
Located in Southwestern Ontario, where Lake Huron flows into the St. Clair River, Sarnia is the largest city on Lake Huron and in Lambton County.
It is one of the warmest climates in Canada and is a border community with easy access to the US-Canada border.
In a natural harbour, the Sarnia port is an important center for lake freighters and cargo ships carrying grain and petrol.
8. Sudbury
Officially known as Greater Sudbury, this is the largest city in Northern Ontario and the regional capital of Northeastern Ontario.
Sudbury is the third-largest French-speaking population in Canada outside the province of Quebec.
It has 330 lakes and is known as the City of Lakes, and is also home to a major geological structure called the Sudbury Basin, the third-largest crater on earth.
9. Thunder Bay
Average rent cost: $1,325 for 1 bedroom
Average cost of buying a house: $366,900 for a single-detached home (median as of March 2022)
Cost of living: $1,246 (per month for a single person, without rent)
Population: 110,000
One of the largest cities in Ontario, Thunder Bay's average rent price remained flat year after year. It is considered the sunniest city in Eastern Canada, with nearly 2,200 hours of sunlight yearly.
It is the first city in Canada that implemented daylight savings time and is home to more than 100 parks, as well as North America's largest grain storage facility.
Thunder Bay gets its name from the immense Thunder Bay at the head of Lake Superior.
10. North Bay
Located on the traditional territory of the Nipissing First Nation peoples in Northeastern Ontario, this city takes its name from its position on the shore of Lake Nipissing.
It is nicknamed the "Gateway to the North" and is home to about 51,000 people.
An interesting fact about North Bay is that it was originally developed as a railroad center, and the major airport was an important military location during the Cold War.
Conclusion
If you're tired of paying sky-high prices for rent and living costs, there are a few cities and towns with the lowest rent prices in Ontario.
Although they are not large and heavily populated like cities such as Toronto or Montreal, many are near nature and have a rich history.
If you're considering moving to a cheaper city or town than most, consider one of the above cheapest cities in Ontario.
Related: