Going on a date in Canada does not have to bore a hole in your pocket. There are many exciting yet cheap anniversary date ideas as there are fish in the sea.
Take a stroll in a quiet park, count blue cars from a rooftop, or chase each other by the sea. Affordable (even free!) date ideas are infinite. The trick is to get creative.
In this blog post are 75 delightful cheap, fun date ideas you can consider when deciding on unique ways to spend time with your significant other.
Cheap At-Home Date Ideas
1. Cook Dinner Together
Spend quality time planning a special meal, making the grocery trip together, cooking dinner, and topping it off with a romantic toast for two with a homemade champagne cocktail.
2. Cozy Up and Watch a Movie
Among cheap date ideas at home, you can always trust Netflix to supply endless movie options and genres for your date night. A fascinating take to this is to work through your must-see films and scratch them off.
3. Do a Canadian-themed Date Night
Prepare a Canadian meal, munch on Canadian desserts, make Canadian cocktails, watch Canadian movies, discuss Canadian history, listen to Canadian songs, play Canadian games, and do anything Canadian.
4. Play Board Games
Playing board games at home provides hours of entertainment for little to no money. You can go the traditional way or rent a board game for $5.
5. Watch the Sunset Together
Whether in your backyard, by the lake or on a mountaintop, a sunset picnic date is a romantic, budget-friendly idea where you can share drinks while enjoying the display of colours.
6. Download a Karaoke App
Put those pipes to use and download a free Karaoke app for a night of singing. Whether you sound like the next big thing on the Idol show or an animal in pain, singing is an excellent way to have lots of indoor fun.
7. Play Truth or Dare
The Truth or Dare game is a pleasant way to learn about your partner. Enliven it by printing out the truth-or-dare questions for less than $10.
8. Unwind with a Home Spa Night
If you have "spa" items lying around, like face masks and bath bombs, set up a home spa night. Light a candle and set the mood with an essential oil diffuser, which you can buy for less than $20.
9. Do Some Scrapbooking
Are you and your significant other travel buddies? If so, collect boarding passes, old ticket stubs and other souvenirs from your trips together and create a scrapbook.
10. Serve an Afternoon Tea at Home
Afternoon tea is another one of the cheap romantic date ideas today. Enjoy Earl Grey and a variety of sandwiches and teacakes right in your home. You can prepare your own or purchase an afternoon tea box for $12-$40.
11. Play Conversation Games
Answer thought-provoking questions from each other to get to know each other on a deeper level. Consider getting a conversation starter kit for less than $20 to make the game more interesting.
12. Solve a Puzzle Together
While the time away solving a 1000-piece puzzle, which you can buy online for less than $20. Make it competitive by setting a time limit or by completing it without the picture guide.
13. Brew a Beer Together
Exercise your right to make your brew, so to speak. For a little over $30, you can learn homebrewing with beer making kits that yield 6 gallons.
14. Create a Couple Bucket List
Compile a bucket list of unique things you want to do together, such as visiting each other's hometowns, starting a new tradition in your relationship, or climbing to the top of a mountain.
15. Play Bingo
Bring out a healthy competition with bingo games. Play different styles, and shake up things by using pictures. Make it more fun by printing date night bingo cards that you can buy online for less than $10.
16. Do a Couple Photoshoot
Set up your camera and take photos of yourselves from various corners of your home. Add fun backdrops and take on comical poses, or you can get serious and give your best couple poses.
17. Have a Backyard Picnic
At-home date ideas like backyard picnics are well-loved traditions. Bring out a blanket, pillows, and snacks, and have a picnic in your backyard or terrace, if you are in the city. Play the guitar or serenade your partner with your favourite song.
18. Have a Wine and Cheese Night
Do you have a gifted bottle of wine from last holiday season? Grab some of your favourite cheeses, meats and crackers, and create a charcuterie board for your date night. Cheeses and meats are also available online for less than $20 each.
19. Make Cocktails Together
Spice up a date with your significant other by making cocktails like Caesar or an Angry Canadian and experimenting with various concoctions.
KOHO Easy Prepaid Mastercard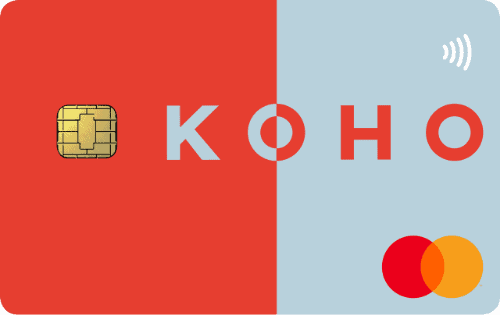 $20 sign-up bonus after first purchase
Earn up to 5% cash back
0.50% savings interest on your balance
$0 monthly fee
Cheap Romantic Date Ideas
20. Go Roller Skating
Roller skating is a romantic yet fun date idea with many shared moments. It is enjoyable as a first date because you will have a good time no matter what. Roller skating sessions cost less than $20.
21. Visit an Art Gallery
If your loved one is the artistic type, a date at art galleries like the National Gallery of Canada would bring delight to your boo's heart at just $20. Make sure to book in advance.
22. Get Competitive at a Board Game Cafe
Challenge each other with board games through a unique coffee date. Enjoy a cup of cappuccino for $4.50 or a Baileys Latte for $10.50 while trying to win a game of Lost Cities or Santorini.
23. Go Book Shopping (Even If You Don't Buy Anything)
Browse bookstores with your loved one and spend time poring over countless books. Make it more interesting by reading children's books, guessing plots, or having fun with the titles.
24. Go to the Cinema On a Cheap Day
Enjoy cheap movie days at Cineplex, where you can get tickets for only $3. Landmark Cinema also has Reel Deal Tuesday, which offers up to $40 off on movie tickets all day and night.
25. Play Arcade Games
Show off your skills in your favorite game at an arcade bar. Play pinballs, ice ball, or Super Mario Bros VS the whole day for only $5.
26. Go to a Comedy Show
Go for some serious laughs with your partner at a comedy show. For only $5, you can enjoy 4 hours of comedy courtesy of college students who perform for laughs and good grades.
27. Roam Around in a Theme Park
Go to one of Canada's theme parks, walk around with your loved one, take in the sights, and eat cotton candy. Visiting a theme park has no pressure and provides plenty of time to chat.
28. Attend Free Concerts
Watch musical artists perform live at free concerts. This is one of the great cheap date ideas for married couples who want to spend time together as music lovers.
29. Go to a Gift Shop and Buy Gifts for Each Other
Visit gift shops or marketplaces and pick up a gift for each other. Set the budget at $10 and see what you can come up with and how creative you can get.
30. Sign Up for Dance Lessons
Take up dance lessons and learn a variety of dances. For $25, you can sign up for five dance lessons at a Fred Astaire dance studio.
31. Visit a Zoo
Go to the zoo and experience a tropical getaway together with your partner. At the Assiniboine Park Zoo in Winnipeg, MB, the gate rate is $23.50.
32. Go on a Yoga Date
Deepen your connection by going on a yoga date. There is a single class for $30. If you like the benefits, pay a $20 monthly membership fee and make it your regular date.
33. Soak in a Hot Spring
Relax in a hot pool and feel the stress leave your body. A hot spring is a great way to relax, unwind, and celebrate your anniversary for just $16.50 per entry.
34. Watch Marine Wildlife
Watching marine animals via an underground aquarium never disappoints. For $16, you can visit an aquarium, observe how the aquatic animals interact, and join a meet and greet with a penguin.
35. Grab Some Cheap Eats
If you are in the Toronto area, try some of their cheap eats because they are, well, cheap. Feast on shawarma, dumplings, sandwiches, fries, and more for under $15. So, you and your partner get your fill to eat without breaking the bank.
36. Make a Video Together
Create a video once a week to add to your memories. You can be silly in it, do a music video, or give each other makeovers. You can also do something educational.
37. Take a Ferry Ride
Boarding a ferry with your date is a romantic scenic ride. You enjoy the fresh air at an affordable transit price of less than $20.
Cheap Outdoor Date Ideas
38. Walk Through the Park
Enjoying each other's company while engaging in physical activity doubles the positive vibes. Plus, you will relish the scenery that a beautiful park offers.
39. Have a Picnic
Roll out the picnic blanket and breathe in the fresh air with a picnic on the beach, at the park, or in a little enclave on the coast. Picnic dates are refreshing, enjoyable and often cost nothing.
40. Explore a Market
Explore a vibrant and bustling market with your date and make food tour stops. Make new friends and learn about cultures while enjoying delicious eats, festivals and fairs.
41. Go to the Beach
Going to the beach is a great way to indulge in fun activities without spending much. Play a game of beach volleyball, make sandcastles, take a dip, or just chill out and relish your time together.
42. Go Hiking
Nothing is more sentimental and spirited than a sunrise hike. So, throw on your running shoes and head for the nearest hiking trail as the sun rises. It would make for killer IG shots, too.
43. Spend a Few Nights Camping
Spend evenings with your partner under the stars – right in your backyard. Pitch a tent, make a bonfire, roast s'mores, and count shooting stars.
44. Hit Up a Garage Sale
Hit neighbourhood garage sales early in the morning. Set a $5 budget and find out who can bargain their way to the most finds by the end of the day.
45. Visit a Farmers' Market
Spend a sunny Saturday in a farmer's market and enjoy the sun and fresh produce that you can later prepare into healthy meals together. You can find a list of farmers' markets here.
46. Go About Town on a Tandem Bike
Go adventurous by riding together in a tandem bike through a park or trail. Or, you can tour and explore cultural sites and tourist attractions. Tandem bike rental prices start from $16 per bike.
47. Volunteer Together at an Animal Shelter
If you are animal lovers, volunteering at a shelter will be a meaningful date for you. Walking dogs and sharing photos with animals for adoption make for purposeful and memorable dates.
48. Take an Archery Lesson
For $35, you can get a one-hour archery lesson with a qualified instructor. The rate includes bow and arrow rental. You can go anytime since these lessons are available all year round.
49. Play 9 Holes at a Golf Club
You probably are not aware, but playing nine holes of golf makes for an excellent date, especially if you play for less than $20 and then enjoy some food and drinks after.
50. Go Ice Skating
Ice skating is an excellent way to get active and enjoy quality time together. Holding onto each other while gliding on ice makes for a romantic date. In Vancouver, ice skating costs less than $20 each.
51. Enrol in Aquafit classes
Sign up for Aquafit classes. Aquafit covers cardio, flexibility, muscle conditioning, and strength-building exercises. In Toronto, the Aquafit program costs $15.50 per adult.
52. Go on a Road Trip
Get a map out, put your windows down, and hit the road for the best road trips with your significant other. Bring a few games, take selfie breaks, or stop for a picnic. The fun things you can do are endless.
Related: Cheapest places to live in Canada
53. Take a Niagara Falls Boat Tour
Enjoy breathtaking views of Niagara Falls on a boat tour. For $32.75, experience the world-renowned wonder – and soaking – for 15 to 20 minutes with your loved one.
54. Ride the Niagara SkyWheel
While in the Niagara area, get on the Niagara SkyWheel. For $15, soar in Canada's largest observation wheel and experience the stunning view 175 feet above Niagara Falls.
55. Go Bowling
Bowling lets you create fun and wonderful memories without spending a lot. At $20 per hour, you or your loved one can enjoy the game even if you are terrible at it.
56. Visit a Honey Farm
A unique date idea for you and your boo is to visit honey farms (when in season), experience how farmers care for bees and pick up various honey products.
57. Go Trampolining
Bounce and flip around and play trampoline basketball or dodgeball. For only $25, trampolining is such an enjoyable date because you will be detoxifying your body while laughing the whole time.

$30 sign-up bonus when you spend at least $30
Earn up to 40% cashback
Features 3,000 stores and retailers
Redeem earnings by PayPal & check
Cheap Anniversary Date Ideas
58. Have a Romantic Dinner By Candlelight
Prepare your favourite meal and choose your drinks carefully. Set the mood with scented candles, scattered flower petals, and soft music. Don't forget to send your partner a dinner invitation.
59. Take a Spontaneous Trip to a Cheap Destination
Spontaneous trips are fun, cheap date ideas that give a sense of freedom and exhilaration. Taking natural and unplanned trips can be exciting and a bit worrisome at the same time. It also tests your flexibility.
Related: Cheap countries to visit from Canada
60. Write Love Letters to Each Other
Go somewhere quiet and compose your thoughts. Be vulnerable and write from the heart. If you are not the type who writes long letters, try writing love notes instead and leave them in places where your S.O. won't expect to find them.
61. Visit Museums
Take part in cultural heritage by visiting not just one but ten museums for free! Getting immersed in history while wandering through exhibits and galleries is also a good way to gauge each other's interests.
62. Visit a Wine Shop for Complimentary Wine Tasting
Believe it or not, you can find a wine shop that offers complimentary wine tasting once a week. If you are celebrating anything, wine tasting would be an interestingly heady way to start it.
63. Go on a Wine Tasting and Tour at Local Wineries
If wine tasting at a wine shop is not enough, bring your date to a wine tasting and tour at a local winery. For $10 or less, you can tour vineyards, explore cellars, and enjoy the stunning scenery.
64. Go on a Book Scavenger Hunt
If you are book nerds who met each other in a public library, scanning shelves for specific books in Canada's most beautiful libraries would be a suitable way to spend your anniversary.
65. Go on a Drive-in Movie Date
As archaic as it may sound, Canada still has drive-in movie theatres today. For $24, you and your significant other can create memories watching classic movies under starry skies as generations before you did.
66. Try Indoor Rock Climbing
Make your anniversary more memorable with indoor rock climbing at a local gym. It offers healthy competition and challenges you to see how far you can go. A day pass costs less than $20.
67. Go Out for a Dessert
Go out and grab some dessert together. Dessert dates are cheaper than a dinner date but just as gratifying. You can order homemade ice cream and sundaes for less than $10.
68. Get a Pedicure
Relish your time together while promoting nail health by getting a pedicure. Try an express pedicure service for $25, which includes soaking, toe-shaping, cuticle cleaning, and regular polish application.
69. Go to a Food and Drink Fest
Canada has many food and drink festivals if you are looking for amazingly cheap food, drinks, and the best events. For $17 each, you and your partner can join the food and drink fest.
70. Enjoy Bird Watching
Visit a bird sanctuary and spend time watching birds. Take a stroll along trails, grasslands, and forests while listening to different bird species chirping in the background – all for free.
71. Visit a Garden
If you love plants, visiting a botanical garden such as the Butchart Gardens in British Columbia would be a dream come true for you. For $30 each, you and your partner can reconnect with nature, boost your mood and improve your overall health.
72. Camp in a Recreational Site
For a different kind of fun, spend your anniversary camping at a recreational site. It provides a rustic atmosphere and a back-to-basic kind of feel that you both will love. Depending on where you camp, there may be a nightly fee of around $10-15.
73. Embark on a Food Tour Quest
For $45 each, you and your beloved can join a scavenger-hunt-style adventure. Take part in the quest for local food while learning about a place's culture, history, art and others.
74. Recreate Your First Date
What better way to reminisce about your first date than to do it all again? Do more than refresh your memory. Head back to where it all started.
75. Stay In
Order your favourite takeout and grab a bottle of wine. Better yet, give yourself an anniversary gift of Classic Brie Cheese & Wine set for $54.
Related: