Purchasing a new or pre-owned car in Canada and getting a good deal can be a tricky task. This is because there are many moving parts in the entire process.
You need to think about what kind of vehicle best suits your needs. Whether to lease or finance a car? And, importantly, if you are like the average Canadian, you need to worry about getting the best car loan rate that won't leave you in a pickle.
Want to get the best financing rate possible for your circumstances? This Car Loans Canada review will show you how to get started.
What is Car Loans Canada?
Car Loans Canada is Canada's oldest online auto loan approval service. It has been in the business of car loan financing for over a decade and provides Canadians with a low-stress option to obtain loan approvals without the 'pressure sales' tactics.
The company operates in nine provinces in Canada, including Ontario, Manitoba, Alberta, Nova Scotia, New Brunswick, Saskatchewan, British Columbia, Prince Edward Island, and Newfoundland and Labrador.
If you have ever purchased a car and you waited till the last minute to consider financing, then you may have experienced the deflating feeling you get when the loan rate offered by the dealership is everything else but competitive.
Even worse, you may embarrass yourself when they inform you that your application for credit has been denied. Out the window goes your pride and …your potential new ride!
The lesson here is that you want to be able to weigh your options before you physically walk into that dealership and settle on a car.
Car Loans Canada makes this possible. From the comfort of your home, you can jump online, complete the simple application form, which takes less than 3 minutes and get approved within minutes.
Find The Best Car Loan Rates in Canada
Start with Car Loans Canada. Visit their website and complete the online credit application.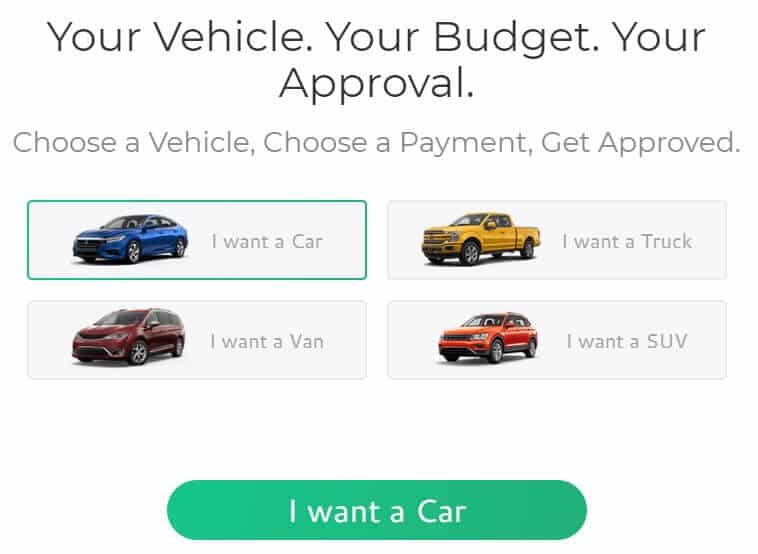 Choose the type of vehicle you want to purchase
Confirm your age (you must be at least 18 years of age)
Confirm your address, employment status, monthly income, and contact details
One of their local approval centres will contact you soon after you submit your application
Based on your answers, Car Loans Canada connects you with a lender willing to offer you the best rate.
Excellent credit? Bad credit? Previous bankruptcy? Limited credit history? All good. They have partnered with various lenders willing to offer you a competitive auto loan rate.
Some of the lending companies they utilize include BMO, Trend Financial, RBC, Scotiabank, Servus Credit Union, TD Canada Trust, WS Leasing, Carfinco, Dominion Leasing, FinanciaLinx, Scotia Dealer Advantage, and many others.
Instead of you approaching these lenders individually, Car Loans Canada does the heavy lifting at no additional cost to you.
Loan amounts available via Car Loans Canada are up to $80,000, and interest rates range from 6.99% to 34.99%.
Car Loan Application Checklist
When applying for a car loan, here is some of the information or documentation you should have available to speed up the approval process:
Know your credit rating: You should have a general idea of your credit score. Not sure what your credit score or credit report says? Find out for free.
Employment income details: Have your proof of income readily available. Income from pension benefits or disability payments is also acceptable. A minimum gross monthly income of $1,800 per month is required.
A valid driver's license.
A valid Canadian residential address.
Your banking information for loan repayment purposes.
Information about the make and model of the vehicle you want to purchase.
Why Use Car Loans Canada?
Here are some reasons you should consider shopping for auto loan financing from CarLoansCanada.
1. One-Stop Financing Solution: Think about the hassle of moving from bank to bank (e.g. TD, BMO, Scotiabank, and RBC), credit unions, or dealerships looking for the best rates.
It is tiring and inefficient, and all those hard inquiries on your credit score can damage it. With Car Loans Canada, one simple application goes out to more than 300 lenders simultaneously!
2. Quick response rates and a high probability of approval. You can have your car in as little as 48 hours.
3. Get the lowest rate possible for your car loan. This is a big deal since a lower interest rate can save you thousands of dollars in interest fees over the life of your loan.
4. Obtain a flexible car loan with a term of your choosing for as long as eight years.
5. Easily access the largest inventory of vehicles in Canada at over 14,000 vehicles with one application.
6. Flexible payment options and no prepayment penalty.
7. No down payment ($0) car loan options are available.
8. All credit types can apply to be considered for a loan.
9. It has a car loan calculator you can use to calculate your potential monthly, bi-weekly, or weekly payments based on various interest rates and down payment values. You can also factor in the trade value of your old vehicle, if applicable.
10. Great customer service agents who can provide free advice over the phone.
Car Loans Canada Alternatives
For the best car loan interest rates in Canada, visit Loans Canada and LoansConnect to compare the rates.
Loans Canada
Loans Canada is a loan comparison platform for all kinds of personal loans, car loans, debt consolidation loans, and bad credit loans.
Interest rate: 1.99% to 46.96%.
Loan term: 4-60 months.
Maximum loan amount: Up to $50,000.

LoanConnect
LoanConnect is a search engine for finding personal loans online from various lenders. You can use it to find a loan that works for your situation regardless of your credit score.
Interest rate: 1.90% to 46.96%.
Loan term: 12-60 months.
Maximum loan amount: Up to $50,000.

Conclusion
Finding a competitive car loan rate online has never been easier.
Instead of hopping from one bank or credit union to another or haggling unsuccessfully last-minute after you have already set your eyes on a car at the dealership, you can sort out financing right from the comfort of your home.
Related posts: