Caary Capital recently launched in Canada, and it is changing the way businesses can access credit cards. Instead of using your credit history when you apply for an account, it focuses on the assets and cash flow of the business.
Caary provides a corporate credit card in the form of both physical and virtual cards, and it gives business owners lots of control over staff spending.
This Caary Business Mastercard review will cover what Caary is, how it works, the pros and cons, and more to help you decide whether it is the right choice for your business.
What is Caary?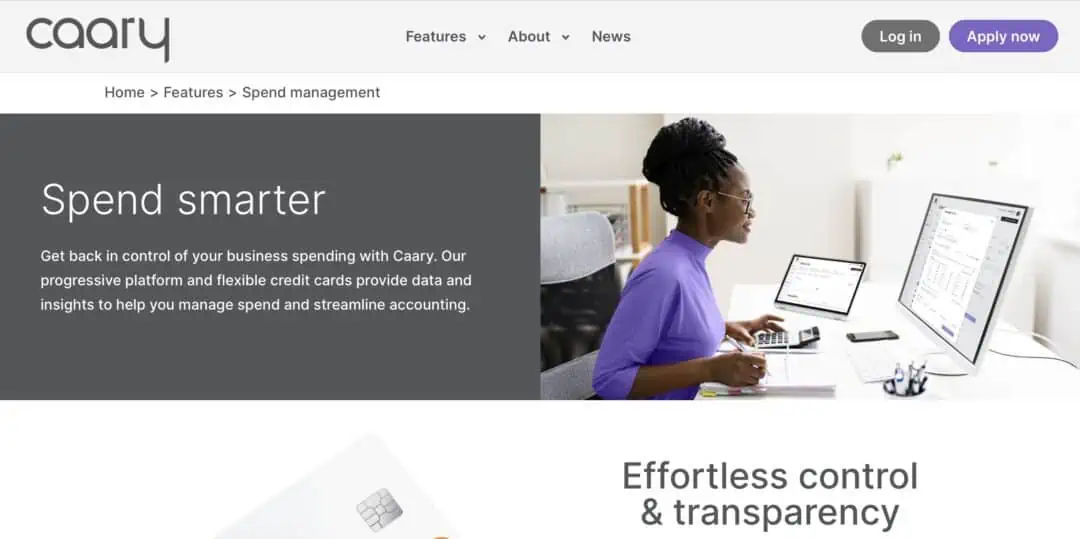 Caary provides businesses with free and easy access to a credit card without any personal liability for the business owner and no credit checks.
It is completely free with no fees to pay, including annual fees.
It was founded by entrepreneurs, and its goal is to make an impact in the business credit card market, which large banks currently dominate.
As well as providing credit cards, it also comes with useful expense management and spending management features that help business owners get more control over their finances.
How Does Caary Work?
The Caary Business Mastercard is free for businesses, and there is no annual fee to use the credit card. There is no credit check, and the business owner does not have to repay credit using their personal assets.
The credit card is aimed at SMBs with between $1 million and $50 million in revenue. You must have an average balance of $35,000 in a business bank account to be approved.
Once you have signed up with Caary, you will receive a physical Mastercard, and you can also set up unlimited virtual corporate cards.
You can then order multiple cards for your staff and set spending limits, expiry dates, and more to get complete control over business spending. You will also earn 1% cash back on all transactions.
Caary Features
Caary has three main features: Corporate Card, Spend Management and Expense Management.
Corporate Card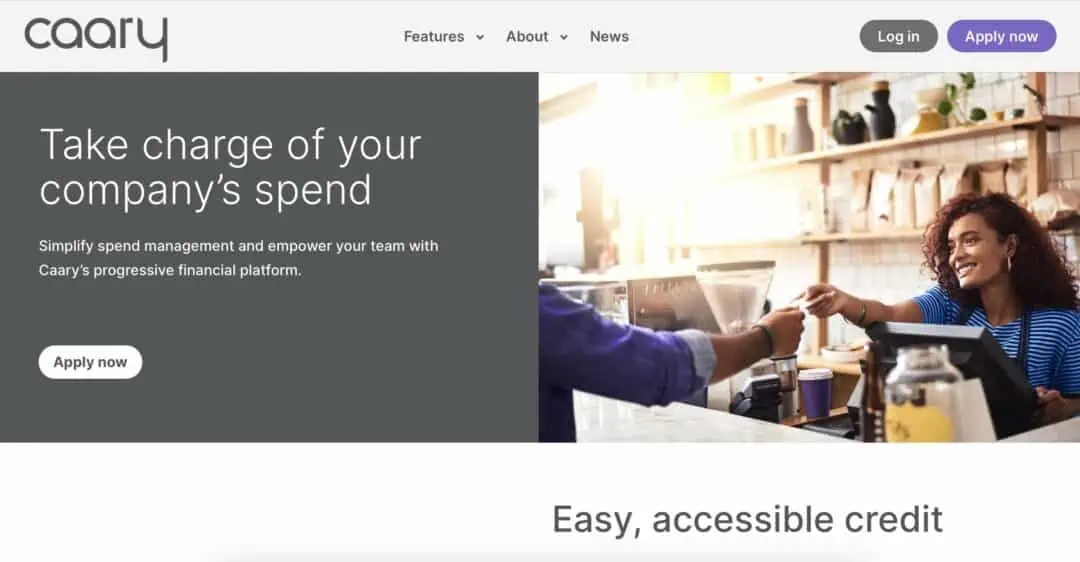 If you're looking for the best business Mastercard, the Caary Corporate Card is a good option. You can apply for this without any impact on your credit, and there is no personal liability.
It consists of both a physical and virtual card, and you can issue new virtual cards in seconds. Both cards have the same benefits, with no annual fees and the ability to earn cash back.
You have a lot of control over these virtual corporate cards. They connect to your business bank account, and you can manage them from the management dashboard, manage online spending, streamline payments, set expiry dates and more.
Expense Management
The expense management feature helps to save you time on bookkeeping using smart receipt capture technology and accounting integration.
With receipt capture, the platform makes it easy to expedite expense management. The administrator sends an SMS message, and the user can reply directly with a photo of their receipt. Users can also receive prompts to upload photos of their receipts directly into the app.
This helps you to save time chasing receipts because Caary collects them all instead. You can even create customized folders to organize the receipts and search for them by vendor, date, amount, etc.
Spend Management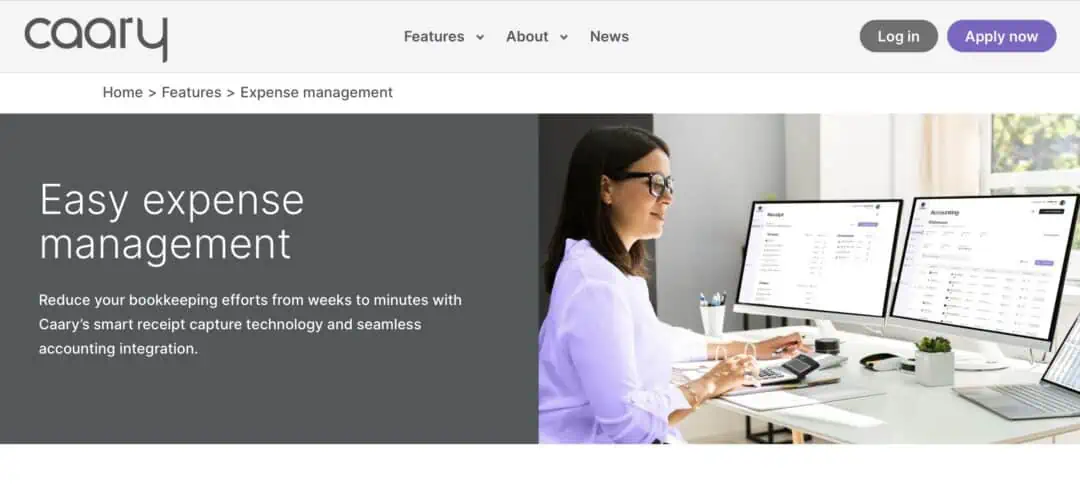 The spend management feature aims to give you more control over business spending by providing you with flexible credit cards. You can use these to streamline your accounting and manage spending more easily.
You can give your teams different credit cards and set limits that give you complete control and provide you with full visibility over the transactions.
Spend controls allow you to make smarter decisions on spending. With this, you can customize credit cards, lock them, and cancel them from the dashboard.
There is no need to share credit cards among employees. Instead, you can issue them on-demand for specific expenses and projects with custom spending limits and expiry dates.
With spend insights, you can use the management dashboard to monitor spending in real-time and at all levels.
Over time, you will get personalized insights, savings tips and tax tips based on your spending history.
Caary Pricing
Caary is free to use. There is no annual fee for using the card, and it doesn't have any FX fees. Unlimited virtual cards are also provided free of charge.
How to Apply for the Caary Card
You can apply for the Caary credit card on the website. You must be an authorized signing officer, and to qualify, you need to hold an average of $35,000 in a business bank account.
You will need to have several details ready when you sign up:
Corporation details, like the incorporation number and business number.
The sign-in details for your business bank account.
The personal information of significant owners.
A government-issued ID.
You can then simply sign up online and wait for the application to be accepted.
Advantages of Caary
Caary has several advantages when you choose to use it as your business credit card:
It's completely free to use with no annual fee.
Earn 1% cash back on all your spending.
Issue unlimited virtual credit cards for free.
Don't pay any foreign exchange fees.
No credit check is needed to apply.
The business owner is not personally liable.
Useful features like expense management are included.
Downsides of Caary
There are not many downsides to using a Caary credit card, but they include:
To be approved, you must have an average account balance of $35,000 in a business bank account.
It does not come with as many premium perks as some business credit cards.
Caary Mastercard Alternative
Float Business Credit Card
Rewards: Earn 1% cash back on spending that exceeds $25,000 monthly; get access to multiple CAD and USD cards and pay no FX fees.
Welcome offer: Get $500 in cashback for becoming a Float customer and spending $25,000 within the first 90 days.
Interest rates: Not applicable (for refunded prepaid cards).
Annual fee: $0 for standard cards.
Should You Get a Caary Card for Your Business?
Caary is an interesting proposition for anyone looking for the best business credit cards in Canada. It has a lot of benefits that might make it a good choice for your business.
If you want unlimited business credit cards for your staff, and you don't want to be personally liable or go through a credit check, it could be a good option.
It has several useful business features, including spend management and receipt capture. These useful tools are also provided for free, saving you a lot of time and making keeping track of your expenses a lot easier.
The ability to earn cash back is a bonus, and the fact that the card has no foreign exchange fees makes it a good choice for any business that makes international purchases or has employees who travel out of the country.
Add to that the fact that there is no annual fee, and it is certainly worth looking into for your business.