Looking to invest using Fidelity Exchange Traded Funds (ETFs)? Below, I cover some ways to buy Fidelity ETFs in Canada.
Fidelity Investments Canada was founded in 1987 and is part of a broader group of companies collectively known as "Fidelity Investments".
Fidelity ETFs
Fidelity offers a variety of ETFs designed to meet investors' needs, including:
All-in-One ETFs: These low-cost asset allocation ETFs are designed to match investors' risk tolerance and investment objectives.
They are automatically rebalanced and globally diversified, making it easier for everyday investors to hold professionally managed portfolios without the high fees.
You can learn more about Fidelity All-in-One ETFs in our reviews:
Sustainable World ETF: This global equity ETF invests in companies that meet certain environmental, social, and governance criteria.
Fixed Income ETFs: Income-seeking investors can consider Fidelity's fixed-income ETFs. They include high-yield, multi-sector, and investment-grade solutions to match your time horizon, risk tolerance, and investment objectives.
Factor ETFs: Factor-based ETFs are designed to take advantage of specific asset/market characteristics to potentially improve returns while aiming to lower risk. The suite of style factors offered by Fidelity include high dividend, high quality, momentum, value, and low volatility; all of which are offered with exposure to Canadian, U.S., or international equities.
How To Buy Fidelity ETFs in Canada
You can buy Fidelity ETFs using a financial advisor or online brokerage account.
Brokerage platforms in Canada include (in alphabetical order):
Fidelity ETFs can be bought and sold during regular trading hours (like stocks).
Check with the brokerage platform to confirm the availability of the ETF you are looking to buy or simply search for it using the ticker symbol if you already have an account.
Trading commissions may apply when you place a trade, however, some brokerages offer commission-free ETF trading.
How To Buy Fidelity ETFs on Questrade
Below is a step-by-step guide on how to buy Fidelity ETFs on Questrade. The process will be somewhat similar to other online brokerages.
Step 1: Open an Account
If you already have a Questrade account, skip this step. If you don't, you can open a Questrade account here.
Complete your profile and the investor questionnaire. You will also need to upload some documents including a government-issued ID.
Fund your new Questrade account from your chequing account or transfer investments from another financial institution if that's your goal.
Step 2: Decide on your Portfolio Asset Allocation
This is where you determine how your investment portfolio is going to be structured based on how comfortable you are with taking investment risks, how long you plan to stay invested, and the type of returns you are expecting.
I am a fan of All-in-One ETFs because they eliminate the hassle of rebalancing multiple times per year. Also, you can simply hold one fund as opposed to 5, 10, or 20 different assets.
For the sake of this example, let's assume I'm buying the Fidelity All-in-One Growth ETF (FGRO).
Step 3: Search for the ETF
Search for the ETF you want to purchase using the search box.
For FGRO, I enter the "FGRO" ticker and the dropdown lists the potential securities matching the ticker.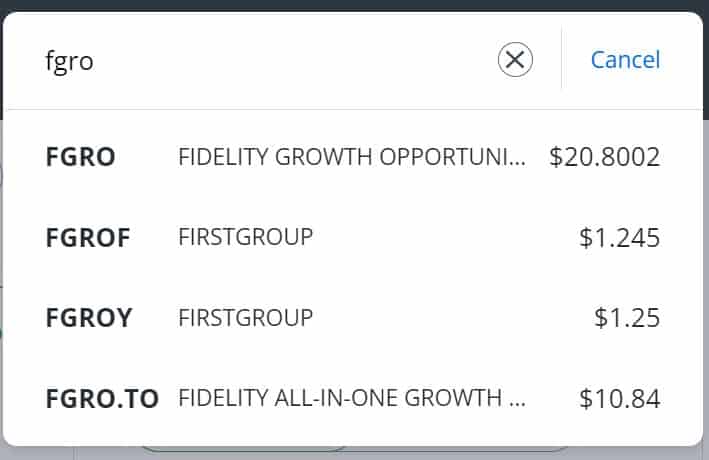 Choose your preferred ETF to see its price chart and key statistics.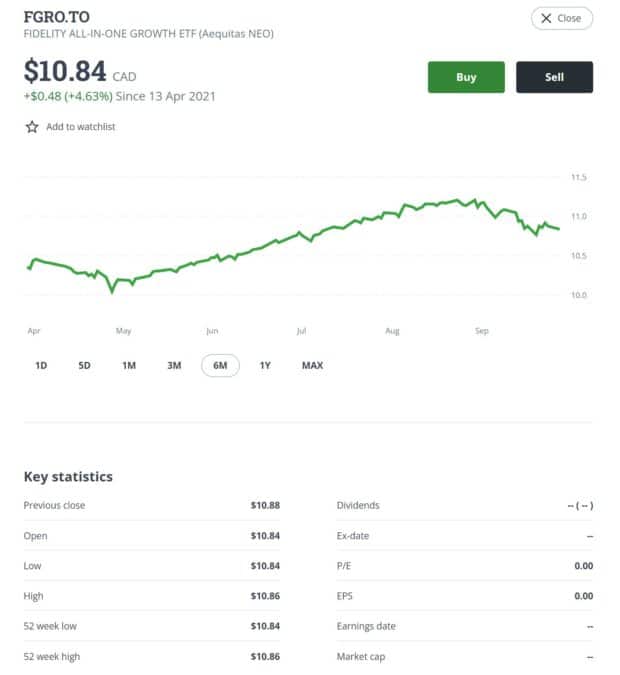 Step 4: Click on Buy and choose Order Type
Click on the "Buy" button and select the type of order you want to place.
In this example, I chose "Limit order" because I would like to enter a maximum price at which the order is filled.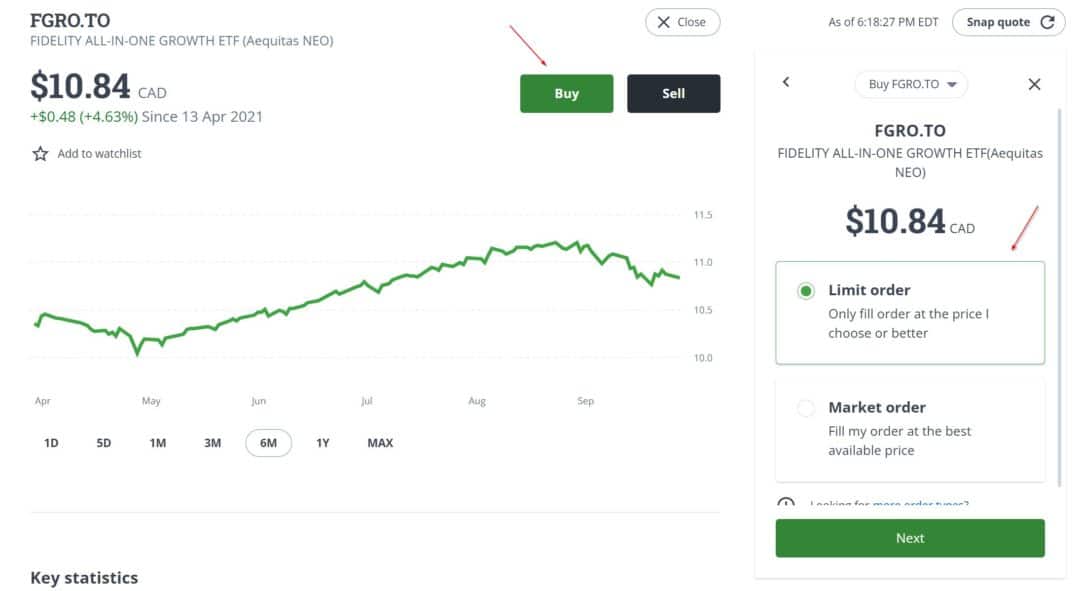 If you are okay with buying FGRO at the current best available price, choose "Market order".
Here's a useful limit order vs. market order guide.
Step 5: Enter the Quantity of FGRO and Price
Click on "Next" to move on to the step where you enter the number of FGRO ETF units you want to buy.
I am interested in buying 100 units of FGRO using my margin account.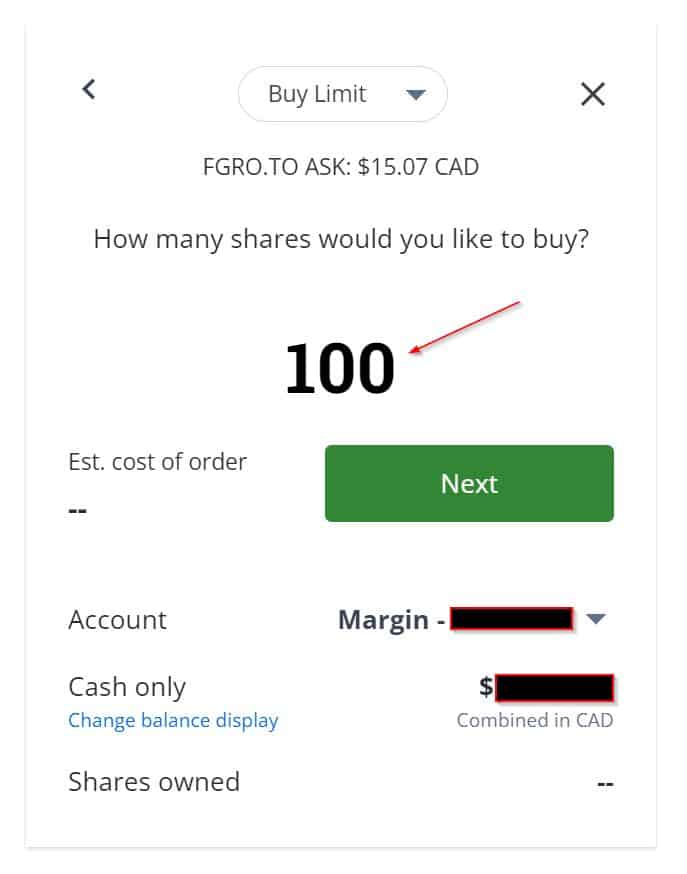 You can purchase FGRO in both registered (e.g. RRSP, TFSA, or RESP) and non-registered accounts. This window also shows how many shares of the asset you already own.
Click on "Next" to enter the maximum price at which you'd like to buy FGRO.
The price chart shows me that FGRO was trading at $10.84. I'd like to buy my shares at $10.82 using a limit order.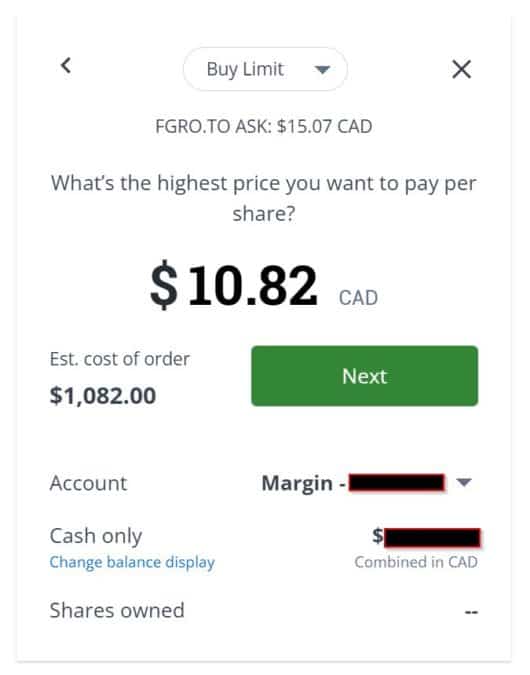 The total cost of the order amounts to $1,082.
Step 6: Review Your ETF Order
Review your order to ensure everything looks good.
If you are comfortable with what you are seeing, click on "Place order".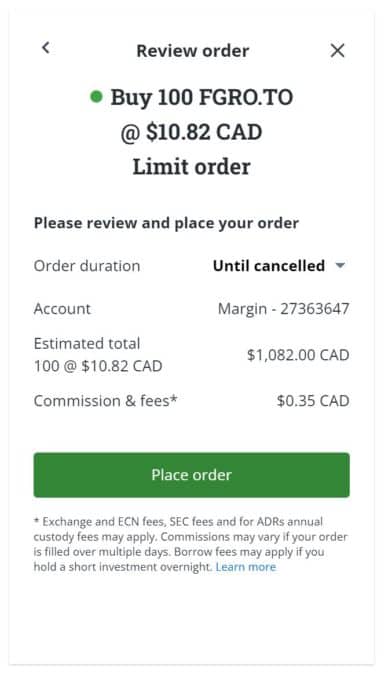 Questrade offers ETF purchases, so trading commissions are waived on this order. Some other fees (ECN, SEC, etc.) may apply (as shown).
Conclusion
That's it, you have now placed your order for the ETF.
Other Fidelity ETFs can be bought and sold following the same steps.
In addition to Questrade, you can buy Fidelity ETFs at other Canadian online brokerages that offer them.
This article is sponsored by Fidelity. All opinions are mine.
Commissions, trailing commissions, management fees, brokerage fees and expenses may be associated with investments in ETFs. Please read the ETF's prospectus, which contains detailed investment information, before investing. ETFs are not guaranteed. Their values change frequently, and investors may experience a gain or a loss. Past performance may not be repeated.
Regulatory restrictions prohibit the presentation of performance data for funds with a history of less than one year.
While the ETFs are typically managed to the neutral mix constraints indicated, the funds may deviate from it.
Please read the ETF's prospectus, which contains detailed investment information.
The investment risk level indicated is required to be determined in accordance with the Canadian Securities Administrators standardized risk classification methodology, which is based on the historical volatility of a fund, as measured by the ten-year annualized standard deviation of the returns of a fund or those of a reference index, in the case of a new fund.
The statements contained herein are based on information believed to be reliable and are provided for information purposes only. Where such information is based in whole or in part on information provided by third parties, Fidelity cannot guarantee that it is accurate, complete or current at all times. It does not provide investment, tax or legal advice, and is not an offer or solicitation to buy. Particular investment strategies should be evaluated according to an investor's investment objectives and tolerance for risk. Fidelity Investments Canada ULC and its affiliates and related entities are not liable for any errors or omissions in the information or for any loss or damage suffered.
Certain statements in this commentary may contain forward-looking statements ("FLS") that are predictive in nature and may include words such as "expects," "anticipates," "intends," "plans," "believes," "estimates" and similar forward-looking expressions or negative versions thereof. FLS are based on current expectations and projections about future general economic, political and relevant market factors, such as interest, and assuming no changes to applicable tax or other laws or government regulation. Expectations and projections about future events are inherently subject to, among other things, risks and uncertainties, some of which may be unforeseeable and, accordingly, may prove to be incorrect at a future date. FLS are not guarantees of future performance, and actual events could differ materially from those expressed or implied in any FLS. A number of important factors can contribute to these digressions, including, but not limited to, general economic, political and market factors in North America and internationally, interest and foreign exchange rates, global equity and capital markets, business competition and catastrophic events. You should avoid placing any undue reliance on FLS. Further, there is no specific intention of updating any FLS, whether as a result of new information, future events or otherwise.