The KOHO credit building product is an innovative way to establish a credit history from scratch or improve your credit score.
A poor or bad credit score is a red flag for lenders. When you apply for a credit product (think credit card or loan) with bad credit, they will deny your application or approve it with very high-interest rates.
On the other hand, you get competitive rates when your credit score is in the good to excellent category.
KOHO makes it easy to rebuild credit history in Canada using its interest-free credit building service.
How To Build Credit in Canada
If you are a newcomer looking to establish credit in Canada, you will need to apply for a credit product, such as a personal loan or credit card. The lender reports your payment activities to a credit bureau, which compiles and maintains your credit report.
You also get a 3 digits number that is your credit score.
Some options for establishing credit history in Canada include:
Credit card (secured or unsecured)
Personal loans
Reloadable prepaid credit cards like KOHO
Getting approved for a traditional credit card can be challenging when you haven't used credit before or if you have a poor credit score.
However, with the KOHO Prepaid Mastercard, there is no hard credit check, and approval is guaranteed.
How To Increase Your Credit Score Using KOHO
Follow these steps to build your credit history in Canada using KOHO:
Step 1: Sign Up For KOHO
Start by signing up for a KOHO account. This process is free, and you get a $20 welcome bonus when you use our CASHBACK promo code.
In addition to helping you build credit, you can use KOHO to earn high-interest rates on your savings and up to 5% cash back when you spend.
There are no credit checks, and your application is approved on the spot.
Step 2: Subscribe to Credit Building
For KOHO to report your credit transactions to Equifax (one of Canada's main credit bureaus), you need to subscribe to "credit building."
This service costs $10 monthly and can be cancelled anytime.
Click on "Credit" in the menu tab at the bottom of the KOHO app, and then click on "Learn More."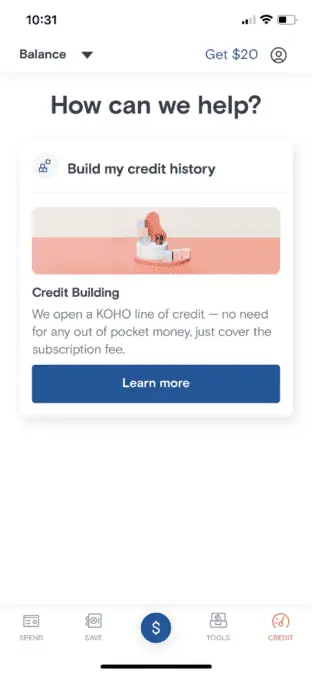 Complete your subscription on the next page.
KOHO opens a dedicated line of credit (tradeline) on your behalf. You choose an amount to set aside from this line of credit, and it is reported as an on-time payment to the credit bureau monthly.
This process is repeated every month while you remain subscribed.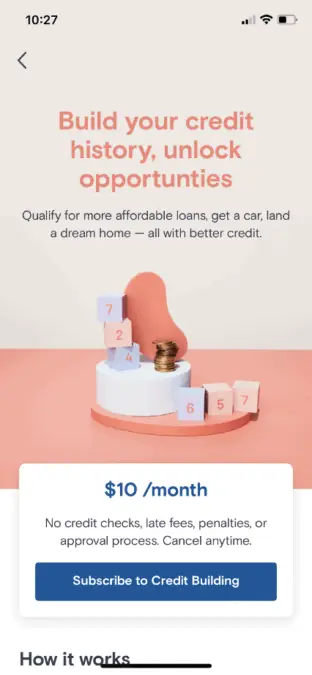 Step 3: Make Monthly Payments
Ensure you have enough funds in your account to cover the monthly subscription fee. If you miss a payment, it could negatively affect your credit score.
KOHO also has a "flexible credit building" product that works like a secured line of credit. This service is currently available on an invite-only basis.
If you are subscribed for flexible credit building, you use your own funds as a line of credit and keep it topped up at the end of each month.
Step 4: Watch Your Credit Score Grow
While subscribed to this service, you can access your credit score in-app. It is updated monthly, and as per KOHO, most people see an increase in their score within 3-6 months.
Benefits of KOHO Credit Building
KOHO's credit building program can be useful for newcomers who have no credit history or anyone looking to boost their existing credit scores.
Its top perks include:
No credit checks are required, and approval is instant and guaranteed.
Provides access to monthly updated credit scores from Equifax.
Interest-free line of credit.
A security deposit is not required for the regular program.
You get access to free financial coaching.
Earn interest on your deposits.
Earn cash back on purchases.
What To Watch Out For
When you first subscribe, you may see a slight drop in your credit score. This is normal because the credit bureau records your subscription as a new credit account being opened. You should see it recover after a while.
Also, if you miss or have late payments, they can negatively affect your credit rating.
How Much Does KOHO Cost?
The entry-level KOHO Easy Mastercard is free. When you add on credit building, you pay $10 monthly.
KOHO users who are subscribed to KOHO Essential or KOHO Extra get a $3 discount on this monthly fee.
| | | | |
| --- | --- | --- | --- |
| | KOHO Easy | KOHO Essential | KOHO Extra |
| Subscription fee | $0/month | $4/month or $48/year | $9/month or $84/year |
| Free trial | N/A | 30 days | 30 days |
| Cost of credit building | $10/month | $7/month | $7/month |
| General cashback offer | 1% cashback on groceries and bill payments | 1% cashback on groceries, restaurants, & bills; 0.25% on everything else | 2% cashback on groceries, restaurants, & bills; 0.50% cashback on everything else |
| Cashback at KOHO partners | Up to 5% | Up to 5% | Up to 6% |
| Welcome bonus | $20 | $20 | $20 |
| Interest earned on deposits | 0.50% | 1.50% | 2.00% |
| Other benefits | Virtual and physical cards, roundups | Virtual and physical cards, roundups, extra cashback at some retailers | No FX fees, 1 free international ATM withdrawal monthly, extra cashback at select retailers |
| Apply | Visit KOHO | Visit KOHO | Visit KOHO |
FAQs
How fast does KOHO build credit?
If you keep making on-time payments, you may see improvements in your credit score within 3-6 months of using the KOHO credit building program.
When can I cancel KOHO credit building?
You can cancel the service anytime.
What is the credit limit for KOHO?
You generally get a no-interest line of credit of $225. This may vary, so, check your custom offer in the app.
Is KOHO good for building credit?
Yes, KOHO offers an easy way to build credit history from scratch.
What are the differences between KOHO prepaid cards and traditional secure credit cards?
Unlike KOHO, traditional secured cards require an upfront deposit. Also, they usually don't have any rewards or cash back offers. KOHO prepaid card can also work as a chequing and a saving account that give you cash back, free e-transfer, and monthly saving interest.
Related: How Does KOHO Work?