A mortgage broker can help you find a competitive mortgage loan rate and save you money over time.
Compared to the default and difficult-to-negotiate rates often offered by traditional banks, mortgage brokers have access to a variety of lenders including banks, credit unions, and other financial institutions.
Breezeful is one of Canada's top online mortgage brokerage platforms.
Using technology, the company simplifies the mortgage process and helps you find the lowest rates regardless of your financial situation.
This Breezeful mortgage review covers how to get the best mortgage from the comfort of your home, its pros and cons, and more.
What is Breezeful?
Breezeful is an online mortgage broker that offers homebuyers access to competitive mortgage rates. If you already own a home, you can also use the platform when refinancing your mortgage or renewing it.
Breezeful operates across Canada and is available in the following provinces and territories: Ontario, Alberta, British Columbia, Manitoba, New Brunswick, Newfoundland and Labrador, Nova Scotia, Saskatchewan, Quebec, Northwest Territories, Nunavut, Prince Edward Island, and the Yukon.
The company also operates in the United States.
Breezeful is backed by some noteworthy institutional investors, including Y Combinator and Go Ahead Ventures. It has also partnered with more than 30 lenders, including top banks like TD, Scotiabank, and EQ Bank.
How To Get a Mortgage with Breezeful
Finding the best mortgage rates has never been easier. With the advent of digital mortgage brokers, you can simply go online, complete an application form, and obtain mortgage financing without leaving your home.
Even better, this process does not include you having to negotiate numbers with anyone. Your broker does all the work.
To get started, visit Breezeful and enter your information. It takes about 5 minutes or less.
You will get a preview of some of the rates available and you can make a selection based on whether you want a fixed or variable mortgage rate.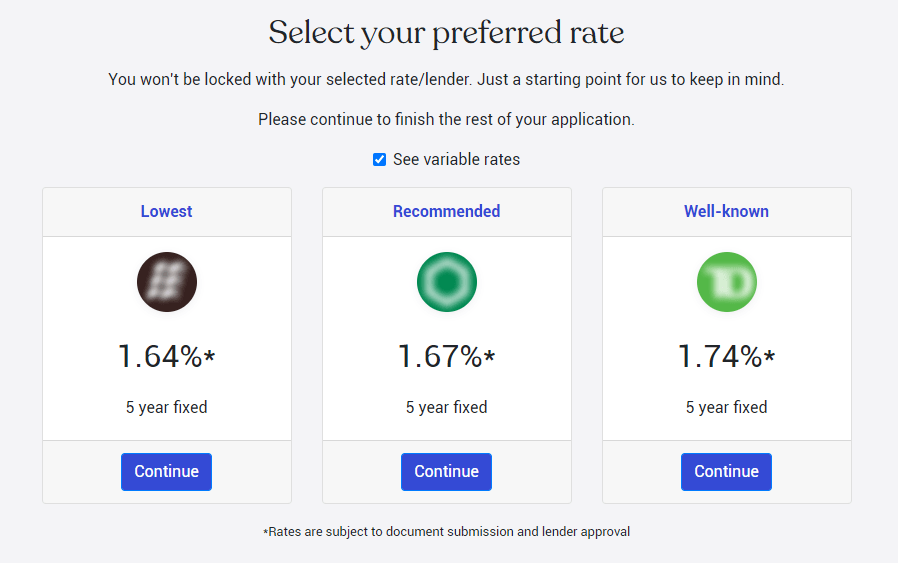 Breezeful matches you with a dedicated online mortgage expert who negotiates with lenders on your behalf and helps you with closing on your mortgage.
To obtain a mortgage pre-approval, you will need to undergo a credit check and provide the following documentation:
Social Insurance Number
Proof of employment and income
Government-issued identification
Bank details
Proof of down payment
Tax documents
Current residence
Purchase agreement
Typically, your mortgage pre-approval is valid for 60-90 days. However, it can be extended based on your needs, circumstances, and market conditions.
What does Breezeful cost?
Breezeful does not charge you a fee for using its platform to find the best mortgage rates.
If you close on your mortgage offer, they earn a commission from the lender.
You can learn more about digital mortgage brokers vs. banks and how they differ.
Breezeful Mortgage Products
Below are some of the mortgage products offered through the Breezeful platform:
Mortgage Pre-Approval: A mortgage pre-approval helps you to lock in a mortgage rate for a specific period of time. This gives you ample time to look for your dream home without worrying about rates climbing up.
Mortgage Refinance: If your current mortgage rate is not competitive, you could potentially save on interest fees by negotiating a lower rate and paying any penalty fees.
Other reasons why you may want to refinance include taking out a home equity or consolidating high-interest debt.
You can use a home refinancing calculator to see whether refinancing makes sense for you.
Mortgage Renewal: Use Breezeful to find a better rate before your current mortgage term ends. While many people just go to their current lender, it pays to shop around for a better rate.
Rent to Own: This program offers an alternative path to homeownership. If you don't qualify for a mortgage now due to your employment status or income type, a rent-to-own arrangement may work for you.
Home Equity Line of Credit: A HELOC is a loan you can take against the equity you have accumulated in your home.
You can use the loan for various purposes and it is often cheaper than a regular personal loan.
To qualify for a HELOC, you must own at least 20% equity in your home, have good credit, and have a good income to debt ratio.
Benefits of a Breezeful Mortgage
Breezeful's digital mortgage brokerage platform offers the following benefits:
Fast Online Application: The online process is quick, simple, and takes only a few minutes.
Access to multiple lenders: Instead of hopping from bank to bank, you can use the platform to shop for rates at more than 30 reputable lenders.
One Credit Check: Each hard inquiry on your credit report negatively affects your credit score. Breezeful uses only one credit check to negotiate rates from multiple lenders. This can limit the impact on our credit score.
Access to Expert Advice: You get a dedicated mortgage expert who advises you on the next steps and ensures your mortgage application is hassle-free.
Flexible credit options: Whether you are self-employed, new to Canada, or have poor credit, Breezeful can help you obtain a competitive mortgage rate.
Free Service: If you end up closing on a mortgage contract, the lender pays Breezeful a commission. You are not stuck with the bill.
Fast Support: You can contact Breezeful by phone or email and get support within minutes, not days.
Free Resources: You can use their website to access various calculators including a mortgage affordability calculator, GDS and TDS calculator, and Land Transfer Tax calculator.
Downsides of Breezeful
The downsides of a digital mortgage broker are:
Online-only Service: If you prefer to meet in person with a broker or advisor, this service is not for you.
These days, many services are rendered 100% online, so this should not be an issue for most people.
30+ Lender: The platform offers access to more than 30 lenders which is a lot by most measures. That said, your preferred lenders or bank may not be on the list if they are not a Breezeful partner.
Final Thoughts
A competitive mortgage rate can save you a lot of money over time.
Similar to finding the best savings rates or no-fee chequing accounts, you should shop around for a mortgage rate that is competitive when you are buying a home.
Breezeful simplifies the process of making it possible for you to compare rates across 30+ lenders without leaving your home.
Summary
Breezeful is an online mortgage broker platform in Canada. This Breezeful review covers what it offers and how to find the best mortgage rates.