Bounc3 is making insurance products more accessible to business owners, gig workers, and freelancers in Canada.
Life insurance is an essential element of your financial and estate planning strategy if you are a parent or someone on whom others are dependent financially.
But that's only a start. Canadians can also benefit from having critical illness and disability insurance to protect them from life's uncertainties and ensure they remain financially okay if they became ill or unable to work.
Perhaps, more importantly, these insurance coverages are crucial for self-employed individuals and freelancers who are often underinsured.
In this Bounc3 review, I cover how the platform works and how to get affordable insurance in Canada.
What is Bounc3?
Bounc3 is an online insurance broker available to residents of Ontario, British Columbia, and Alberta.
It has partnerships with several major insurance companies in Canada and makes it easy for you to apply for various insurance products at affordable rates.
The Bounc3 platform is designed with small business owners and freelancers in mind, with an easy online application process and personalized quotes.
Bounc3 was founded by Dr. Olga Morawczynski, who has a Ph.D. in digital finance and is a licensed insurance broker in Ontario.
Bounc3 Insurance Products Offerings
You can use Bounc3 to access three types of insurance:
Life Insurance
Critical Illness Insurance
Disability Insurance
You can also use Bounc3 to apply for a Health Spending Account (HSA).
Life Insurance
Life insurance is a contract you have with an insurance company in which they promise to pay your beneficiary a lump sum after your death.
In exchange for this financial benefit (death benefit), you pay premiums to the insurer.
The two main types of life insurance policies are term life insurance and permanent life insurance.
Life insurance can help your family cope financially if you were to pass suddenly. They can pay off debt, e.g. mortgage and the funds can help your kids pay for school, etc.
Term life insurance premiums are generally cheaper than permanent life insurance, and you only pay premiums for the length of coverage, such as 10, 20, or 30 years.
They also offer flexibility, as you can change your policy to permanent life insurance later.
Critical Illness Insurance
Critical illness insurance provides a lump sum cash benefit if you are diagnosed with a serious illness, such as cancer or stroke. You can use the funds for any reason, and it is tax-free.
This coverage is crucial if you are self-employed as it can help you weather the storm while you are unable to work, as well as to pay medical bills not covered by provincial or private plans.
Disability Insurance
If you become ill or injured and cannot work, disability insurance provides monthly tax-free payments that replace 60% to 85% of your regular income.
It is a good idea to get disability insurance if you are not already covered through work.
There are two broad types of coverage: short-term and long-term disability insurance.
Unlike critical illness insurance, disability insurance covers a broader array of illnesses and injuries, and some even help you with support for returning to work, such as job retraining.
Health Spending Account
If you have a corporation or a sole proprietorship with at least one employee, you may be able to open a health spending account (HSA).
An HSA can be used to provide benefits to employees and pay medical expenses that are not already reimbursed through a private or provincial healthcare plan.
If you are interested in an HSA, contact Bounc3 here.
How To Apply for Insurance with Bounc3
As already noted, Bounc3 is an insurance broker or insurtech that simplifies the process of comparing insurance quotes online.
To get a quote, click here to begin the online application.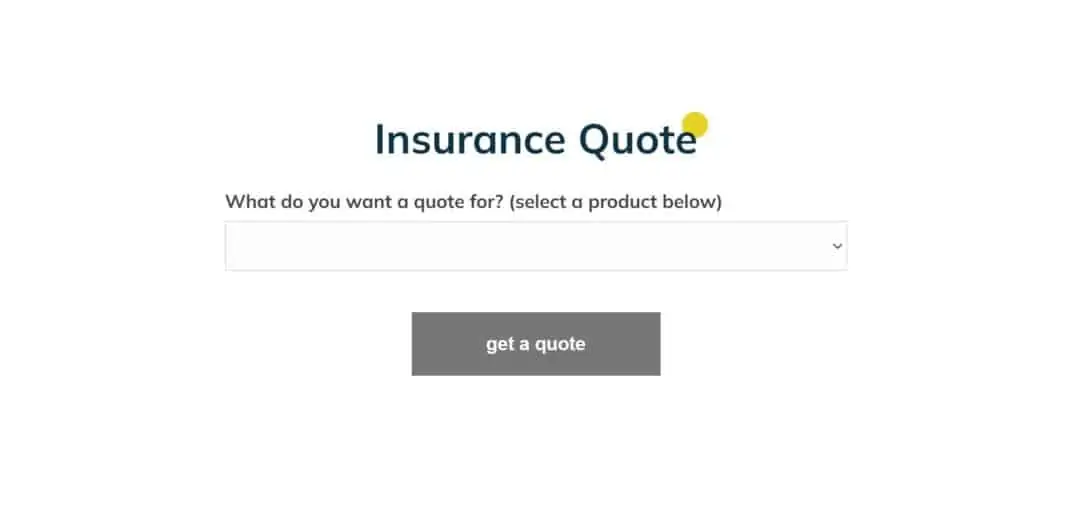 Select the type of insurance you are interested in from the dropdown and fill out your details, plus coverage term and amount.
This process takes 1-2 minutes, and you get preliminary quotes instantly.
For example, for a 20-year coverage term and a $1 million coverage amount for a 30-year-old female, who does not smoke, I received estimated quotes as follows: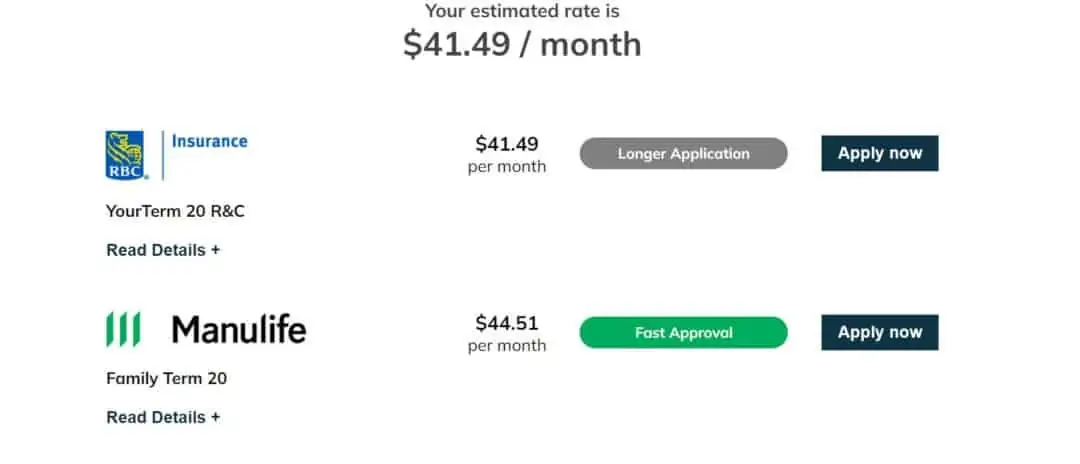 You can then proceed to complete the rest of your application online.
Benefits of Bounc3
Bounc3 offers access to a free, instant, and no-obligation insurance quote.
The application process is completed online, and you can compare rates across several top insurance companies in Canada, including Manulife, RBC Insurance, and others.
If you have questions, you can speak to a licensed advisor and get expert advice.
Lastly, you can use the platform to access multiple insurance types.
One downside of Bounc3 is that those living outside of Ontario, Alberta, and B.C. are unable to use the platforms currently. That said, it has plans to expand into other provinces in 2022.
Conclusion
If you are a small business owner, freelancer, or gig worker who doesn't yet have insurance, consider using Bounc3 to see what's available.
The process takes only a few minutes of your time, and a licensed advisor is available to answer your questions for free.