Borrowell Canada's free Equifax credit score and report is a game-changer when monitoring your credit profile.
It takes only a few minutes, and the service is completely free, which is probably why more than 2 million Canadians have signed up since its inception.
Credit score monitoring can be hard on your wallet, easily costing $16.95 or more per month when you sign up with one of Canada's credit bureaus, TransUnion or Equifax.
While Borrowell only provides your Equifax score, there are a few other services for obtaining your free credit score in Canada.
For example, you can use Credit Karma to view your TransUnion credit score.
What is Borrowell's credit score range? Is it accurate? Is it safe and legit? Does checking your score affect it?
I will answer these questions and more below!
Borrowell Free Equifax Credit Score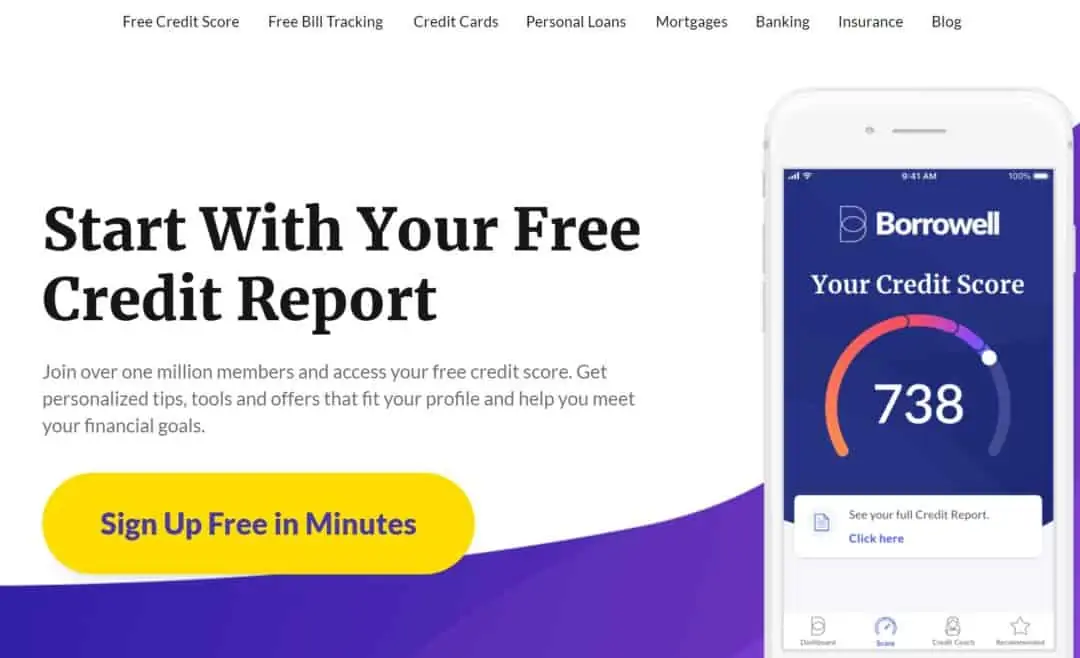 To get your Equifax credit score, sign up here. This service is free, and onboarding takes about 3 minutes.
The score provided by Borrowell is based on the Equifax Risk Score, and it is updated every week.
Weekly updates mean you can track what's going on and see how your credit use and payment history impact your score (positively or negatively).
Additionally, you get access to Borrowell's free credit report service and can scrutinize your report for errors or tell-tale signs that indicate someone may be fraudulently using your identity.
Borrowell members have access to an AI-powered credit coach called Molly. Molly answers your credit questions and regularly shares personalized financial tips that can be invaluable when you are trying to improve your credit score.
Borrowell Credit Score Range
Credit scores in Canada range from 300 to 900, with lower scores indicating that a borrower has a higher credit risk.
Borrowell uses the following classifications for credit scores:
Excellent credit score: 741-900
Good credit score: 713-740
Fair credit score: 660-712
Below average credit score: 575-659
Poor credit score: 300-574
A poor or below-average credit score means you will find it difficult to qualify for loans and credit cards at competitive rates.
FICO scores in Canada also range from 300-900 and are categorized as follows:
800 or higher: Exceptional
720-799: Very Good
640-719: Good
580-639: Fair
Lower than 579: Poor
Is Borrowell Credit Score Accurate?
The credit score you get from Borrowell uses the Equifax Risk Score 2.0 (ERS 2.0). This may be different from the score that some lenders use when they assess your loan or credit card application.
There are many scoring models out there, and lenders often evaluate your creditworthiness using a combination of your credit score and other proprietary formulas.
Credit scores may also vary across credit bureaus. For example, my TransUnion and Equifax credit scores often vary by up to 30 points!
ERS 2.0 is accurate and is the score that Borrowell uses when making its own lending decisions.
Does Borrowell Affect Your Credit Score?
Checking your own credit score does not affect it. A free credit score check qualifies as a "soft inquiry" and has no impact on your score.
When a lender pulls your credit score because they are looking at approving (or disapproving) your credit application, this is known as a "hard inquiry," which can lower your score.
If you notice a drop in your credit score and haven't applied for new credit lately, you should dig around to find out the cause.
Potential reasons for a drop in your credit score include:
You have late payments
Your credit limit dropped, or you cancelled a credit card
There are errors on your credit report
Your identity has been stolen
You paid off a loan
You recently applied for a loan, mortgage, or credit card
Borrowell vs. Credit Karma
Credit Karma and Borrowell offer similar services, i.e. a free credit score.
The main difference between both companies is that while Borrowell uses Equifax, Credit Karma provides a TransUnion credit score and report.
Simply put, they use different credit bureaus, which is why I signed up for both, so I can get a sense of what my credit score is across the board.
Borrowell updates your credit score and reports weekly. Credit Karma updates them every month.
Is Borrowell Safe and Legit?
Borrowell is a legitimate financial technology company. It was founded in 2014 and is based in Toronto.
The company has over 1 million members and partners with some of Canada's largest financial institutions, including BMO, Scotiabank, National Bank, EQ Bank, and BMO.
Borrowell states it uses bank-level security (256-bit encryption) to secure your information.
It is accredited by the Better Business Bureau and has an A+ rating.
Other Borrowell Products
The company offers a bunch of other products, including loans, mortgages, insurance, and banking offers.
Bill Tracking
You can use Borrowell's free bill tracking to stay on top of your monthly bills and avoid late payment fees.
Alerts are sent to your phone when a bill is due or when your account balance is low.
Credit Cards and Loans
You get personalized credit card recommendations based on your credit score.
With more than 60 cards to choose from, Borrowell highlights the best offers and your approval chance.
Personal loans are also available with various terms, interest rates, and loan amounts. You can use a Borrowell loan to finance a major purchase or to consolidate your debt.
There is no requirement to apply for a credit product to access your credit score.
Downsides of Borrowell
Borrowell only offers an Equifax score which may be different from your TransUnion score. Also, it may be different from the scoring model used by some lenders.
Having access to a free credit score that is updated weekly is great. That said, it also means you will get emails from Borrowell weekly.
You can always unsubscribe if you no longer need the service.
Related: Best Credit Building Apps in Canada.