Choosing the right phone plan for a student in Canada can be a difficult task. With so many carriers out there offering so many different plans, there's a lot of information that you need to be able to sift through to find the plan for you.
Since this can be a long and gruelling process, we aim to make it easier for you. In this article, we have compiled a list of the best back-to-school phone plans for students in Canada. But first, we need to lay out the parameters of what a good student phone plan looks like for Canadians.
Best Student Phone Plans
We picked the best back-to-school phone plans with a few criteria in mind. One was that these plans were for university-aged students; if you're looking for a phone plan for younger kids, take a look at the FAQ at the bottom of this page.
Another one is a generous amount of data since, as a student, you spend a lot of time away from home (and wifi!). We'll also go over the pricing options of each carrier since we know how expensive it can be to go to university.
And finally, we'll also touch on international options if you travel or want to study abroad.
1. Fido Student Phone Plans
Price: $55/month by itself; more if you add a new phone with multiple payments.
Features: Plan has a new phone; great coverage; quite affordable; solid loyalty program.
While Fido doesn't have student-specific plans, its standalone plans offer great value. If you want the coverage of Rogers student phone plans without the standard price, it may be worth considering Fido.
For $55/month, you can get 8GB of high-speed data, with unlimited talk and text (including sending texts internationally). Or if you need more data, you can spring for the 15GB package for $65/month.
Fido also has great customer service and an excellent loyalty program. Check their website or ask in their store for the latest on Fido phone plans for students; chances are they will have something for you!
Fido offers decent international options, unlike its parent company Roger. Fido Roam allows for unlimited international texting, among other things. Otherwise, the rates for international calls vary by location and plan.
2. Fizz Phone Plan for Students
Price: Starting at $31/month
Features: Easy to adjust for international calls (or anything else).
Fizz was designed with user-friendliness and your wallet in mind. Its user-friendly site lets you make a plan specific to your needs. You can delete or add anything you may need or not need.
Another benefit of using Fizz is that you can change your plan at any time, whether you're looking to upgrade or downgrade to a different plan.
Fizz is also one of the few providers in Canada that offers data rollover. What that means is that if you don't use all of your allotted data in one month, it will roll over to the next month.
3. Telus Student Phone Plan
Price: $85/month
Features: 25GB data; unlimited calls.
If you think that you're going to be using a lot of data, you may want to consider Telus. They have been considered one of the main carriers in Canada for a long time now, and offer reliable services.
There are a few drawbacks with Telus—they do not have any plans specifically for students, and the international options are not great.
Even with these weaknesses in mind, Telus' 25GB plan could be a great choice for students that use a lot of data. Their large allotment of data, combined with the reliability of their coverage, makes it a safe choice if you can make some extra room in your budget.
4. Rogers Student Phone Plans
Price: $55/month student plan.
Features: Frequent offers; existing customers receive notifications regularly; lots of coverage.
Rogers is one of the few carriers on this list that actually offers a dedicated college student plan. Their student plan offers 20GB of high-speed data, with unlimited data at reduced speeds.
The caveat to this plan is that it requires you to finance a phone through Rogers on a 24-month contract.
Another issue is that with Rogers, international data is not included. If you plan on travelling or studying abroad, you may need to pay extra or find a new provider altogether.
If you like Rogers's coverage but not its pricing or international rates, you may want to consider Fido as an alternative.
5. Koodo Student Plans
Price: $35/month (3GB) or $60/month (10GB)
Features: Bargain pricing; free international texting.
Koodo is a sneaky contender on this list. While it's tempting to compare it to Fido and Fizz for 3G, the best plan Koodo has is the $60/month 10GB plan. If you think you won't end up needing more than 10GB of data, Koodo's plan is a great option!
Another benefit is its great coverage. Since it works from the same towers as Telus, reception shouldn't be an issue for you. Koodo also offers free international texting but nothing else as far as international reception is concerned.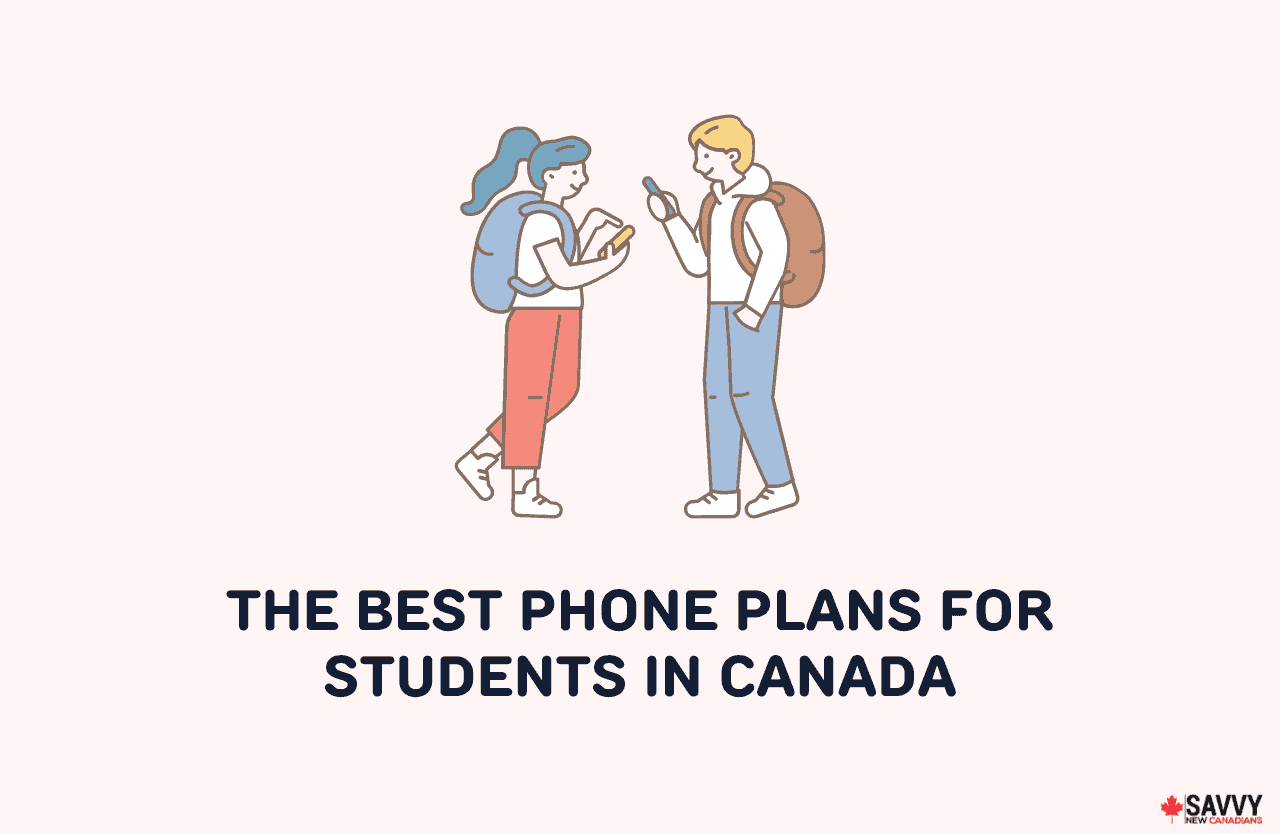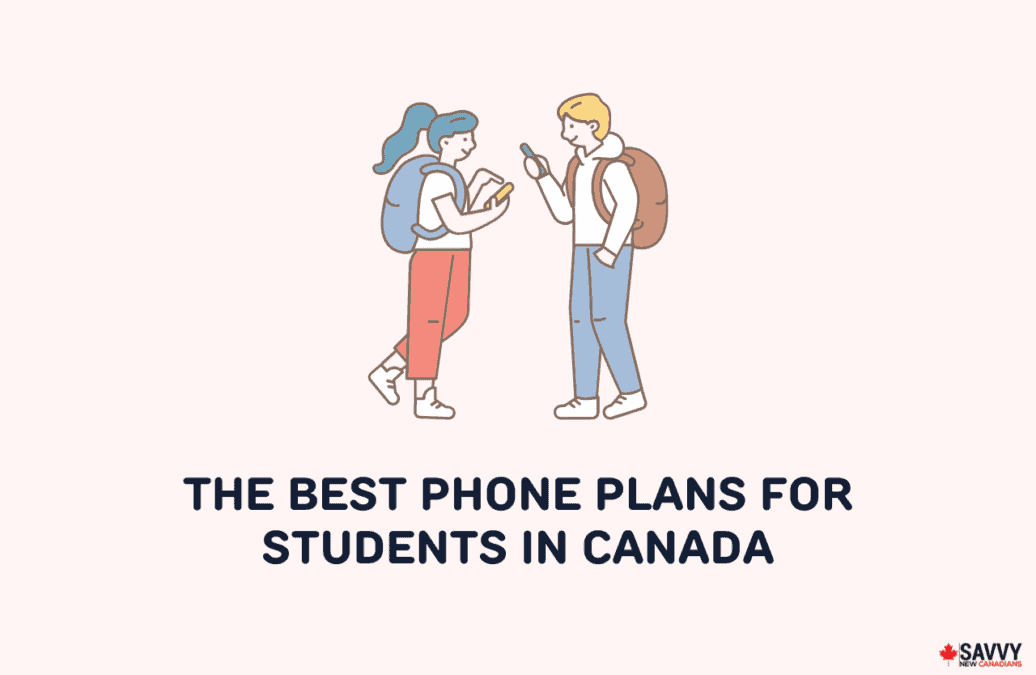 6. Virgin Mobile Student Plans
Price: $55/month
Features: Frequent offers; existing customers receive promotions; great coverage
While Virgin Mobile doesn't offer a student-specific plan, its base plans already offer great value. At $55/month, you can get unlimited calling and texting, plus 8GB of high-speed data. Or, if you need more data, you can get 15GB of high-speed data for just $65/month.
Virgin Mobile is also routinely offering discounts on their plans or on financing a new phone. So it's worth stopping in and talking to a representative.
One drawback of Virgin Mobile is that any international phone needs are not included in their base plans.
7. Freedom Mobile Student Phone Plan
Price: $40/month
Features: Unlimited nationwide talk and text; 10GB LTE data
As a budget carrier, Freedom Mobile also does not offer a student-specific plan, but that's because their plans are affordable to begin with. For $40/month, you'll get 10GB of high-speed data, with unlimited talk and text across Canada.
One major drawback of Freedom Mobile is its limited coverage. Freedom Mobile's coverage is sparse unless you live in the metro areas of BC, AB, and ON. This also makes it difficult to stay connected during road trips, when driving between major cities.
Best Student Phone Plans in Canada Summary
That was a lot to take in, so here is a table of all the mobile phone plans for students discussed above. We've also added a few more for comparison's sake:
| | | | | | |
| --- | --- | --- | --- | --- | --- |
| Carrier | Plan Name | Data | International Offerings | Price per Line | Further Details |
| Virgin Mobile | 8GB Value Plan | 8GB | None | $55/month | Virgin Mobile members get access to benefits and retail discounts |
| Koodo Mobile | 8GB | 8GB | Free texting | $55/month | Another common plan is 15GB for $65/month |
| Telus | Telus Unlimited 50 5G | Unlimited (50GB at high speeds) | Unlimited international texting | $85/month | Link |
| Fido | iPhone SE plan | 4G LTE | Yes (text and Fido Roam) | $60/month | Link |
| Bell Mobility | Bell Mobility Student Offer | 20GB | International roaming is available for $15/day | $55/month | Link |
| Public Mobile | $15 Plan with 100 Mins Canada-Wide Talk + Text + 250 MB | 3G | Unlimited texting | $15/month; more with a phone. | Link |
| Rogers | Student mobile plan | 20GB | Additional | $55/month | Link |
| Freedom Mobile | Freedom | 10GB | $8/month roaming; other packages offer more data per day | $40/month | Limited by area; mainly BC, AB, ON. |
| Fizz | 5GB | 5GB | Adjustable rates at a modest fee for your plan | $31/month | Link |
With this chart, you should be able to compare the plans offered by each of the major carriers in Canada.
One thing to keep in mind is that carriers can sometimes offer reduced rates in specific provinces. For example, Telus offers some plans specifically to residents of QC, MB, and SK. So you should look into each of your province's options for each of the carriers.
What Does a Good Phone Plan Look Like?
Before we go into the best phone plans for students, let's review the criteria for what makes a "good phone plan."
In general, a good student phone plan should have:
A fair price. College is expensive on multiple fronts—don't make your phone plan one of them. You will want to look at "price per line."
Unlimited talk, text, and data.
Great coverage. Depending on where you live, this could be the most important thing when choosing a plan!
International services. If your child is part of any study abroad program or is moving from another country to Canada, you will want to keep in touch.
Remember that the coverage zone of your carrier is very important! You're going to want to invest in a plan that works anywhere that you find yourself frequently.
The last thing you want is to be out and about and unable to communicate with your friends, parents, teachers, or anyone else you may need to get ahold of.
How Can I Lower My Cell Phone Bill in Canada?
Here are a few general tips that can reduce your bill:
Look at your bill and see what you can cut. Do you use every paid minute of your plan?
Avoid long-distance calls.
Use an app like WhatsApp, Skype, or Facebook Messenger to call relatives while travelling to international countries rather than using your phone.
Switch your family from individual plans to a family plan (assuming that your carrier offers discounts for multiple lines).
Check the data savings features on your app.
Are you being charged for voicemail? Do you use it?
Finally, negotiate with your provider.
All of these involve looking at your cell phone bill and seeing what you are or aren't using, so you can pick the plan that makes the most sense for you.
Once you figure that out, you can also try negotiating with your provider for a better deal.
Conclusion
When you're looking for a new student's cell phone plan, you need to consider all of the factors. The most important thing to look for is coverage; it doesn't matter how good your plan is if it doesn't work where you need it to.
Other than that, you'll need to assess your needs when it comes to your phone plan. How much data do you use in an average month? Do you need unlimited calling and texting? Do you plan on doing any travelling and need international coverage?
It's always a good idea to ask if your provider can offer you a student phone plan. They may have a limited-time offer or promotion that is not publicly available. We hope this article gives you a few starting points for your research.
Frequently Asked Questions
Which Mobile Network Is Best for Students?
The answer to this question is entirely dependent on you and your specific needs; you'll need to assess how much data you need, what providers offer the best coverage in your area, what their international coverage options are, and anything else that may apply to you and your specific situation.
What Phone Plan is Best for Kids?
Your family phone plan may have special options for kids, including parental controls and tight limits on data. Ask your provider what they have to offer. But if you don't currently have a family phone plan (i.e. everyone in your family is with their own carrier), Fido, Koodo, and Virgin Mobile each offer a plan with 250MB of data, 100 minutes of calling, and unlimited texting for $15/month (when you bring your own phone)
How Can an International Student Get a SIM Card in Canada?
Many mobile service providers will offer you a SIM card as soon as you enter Canada. However, you should always factor your coverage in first. Ensure your provider covers your campus, then ask about getting a SIM card.
Do College Students Get Discounts on Phone Plans?
This depends on what carrier you go with. Currently, Bell and Rogers offer a student-specific deal. However, you can ask your current cell phone service provider about possible discounts. Other programs, such as Apple education pricing can also save you money on phones, laptops, and more.
Related Topics: