There are a lot of coupon sites Canadians can take advantage of.
Couponing apps are like your own personal assistant for finding the best ways to cut costs. They offer you opportunities to save, get points, and discounts.
Whether you're looking to save a little or a lot, you've got plenty of options when it comes to Canadian coupon websites.
Best Couponing Sites and Apps in Canada
Couponing in Canada often becomes a hobby and is actually exciting in its own way. Read on to learn about 37 of the best Canadian coupon sites.
1. Rakuten
Rakuten is a shopping cashback site with 750 participating stores including Sephora and the Bay.
When you purchase through the site, you earn cash back on your purchases. You can then redeem this cash back via PayPal or cheque.
This platform has been around since 2012 and has paid Canadians over $70 million since then.
Pros
Well established
Cash back
Cons
You'll have to spend a lot to get a good amount of cash back
You can get a $30 bonus when you first create a Rakuten account and make your first purchase of $30 or more.
2. Honey
Honey offers a couponing app and website interface with an extension you can use for your browser. It tracks what you buy and helps you find rebates and coupons you'd be interested in.
It also offers deals of the hour with offers that are constantly changing.
Pros
Intuitive platform that tracks the things you buy and offers coupons based on past purchases
Constant deals and money-back ideas
Cons
Permissions to use the plug in can seem invasive
3. Swagbucks
Swagbucks is one of the best coupon sites for online shopping.
It has partnerships with big-name brands like Nike and Best Buy. You can even play games on the app that give you points you can then exchange for gift cards.
Pros
Fun, interactive way to get discounted groceries and other items
Points (Swagbucks) that can be converted into gift cards
Cons
The dashboard wasn't intuitive and there are problems with third-party partners that causes confusion
Learn about the various ways you can earn on Swagbucks.
4. Groupon
Groupon is a couponing app that offers savings on all kinds of products and services. They give you local flyers and tell you what you get with the coupons alongside.
Deals can be as low as 5% off and up to 90% off. There are reward deals that typically range from 15% to 30%.
Pros
Intuitive design that makes it easy to use
Saves you time having to sift through coupons
Cons
Complaints about customer service
Must check out the fine print with each deal
5. Caddle
Caddle is a cash back app for grocery purchases. They update their deals on Thursday and have coupons you won't see on other coupon websites.
You can fill out surveys to get bigger savings. If you refer friends, you earn a dollar for every person that signs up.
Pros
Do surveys, earn money
Earn money on referrals
Cons
Limited selection of coupons
6. Flipp
Flipp is a discount coupon app. You can use it to access flyers from various stores all in one place.
They put together local flyers and let you know what's available. It also allows users to download coupons.
Pros
Consolidates coupons in one spot
Easy to compare/price match
Cons
Reports of the app not functioning properly
7. Save.ca
With the Save.ca app, you can look through weekly store flyers and print out coupons. While it may be a bit old school, you can opt to have coupons mailed to you free of charge.
You get exclusive deals from big brands and well-known retailers in Canada.
It was the first couponing website in Canada and has gone mobile as well.
Pros
Compare coupons easily
Choose from cashback to coupons
Cons
Not a lot of options for the coupons sent by mail
8. SmartSource
Smart Source is a free coupon website. You choose your province, category, and brand to get the coupons you want.
There are categories like baby, food, and healthcare. And, with plenty of trusted brands to choose from, it's a great place to get your local coupons.
You just print out available coupons and use them at participating locations. You can sign up with your email to get exclusive offers.
Pros
You can narrow down your province and location to get relevant coupons
Cons
Coupons can't be mailed to you
Limited coupons that can be printed
9. RetailMeNot
Retail Me Not is one of the top coupon platforms in Canada.
It posts deals daily with coupons from over 130,000 local and online shops. It offers gift cards, cashback deals, and coupon codes.
You can even get travel discounts and printable coupons. You can search by store, which includes big names like Walmart and Staples.
Pros
A wide variety of coupon options
Cashback deals
Cons
10. Websaver.ca
Websaver offers both digital and printable online coupons.
For the digital coupons, you have to access them on your mobile device. And after choosing your coupon, you just log in and print them out.
The site has many different products and brands for those who love couponing in Canada.
Once you make an account, you can access the digital and printable coupons. They can also mail you coupons as an option.
Pros
Digital and printable coupons available
Cons
You will have to wait 2-6 days before you get your coupons in the mail
11. Brandsaver.ca
Brandsaver.ca is a small coupon site in Canada that offers around 60 deals at any given time.
It's very basic but there are some good offers and it's easy enough to grab a coupon. They have small offers on everyday products.
Really, this site seems to link to P&G Good Everyday. All said and done, there are much better Canadian coupon sites out there.
Pros
Simple site to grab a coupon
Cons
Some of the coupon links didn't function
12. Coupons.ca
Coupons.ca is another free coupon platform that can be your one-stop shop.
You can easily collect coupons by scrolling through the site. Subheadings include Baby, Kids, Toys, Beauty, Business, Clothes, Computers, Travel, Dating, and more.
It's got a plethora of options with offers and sales available. It is truly one of the best discount sites for Canadians.
Pros
Easy to grab downloadable coupons
Many different options
Cons
No rewards programs with cashback incentives
13. Amazon Coupons
Amazon coupons have some great offers with some coupons being exclusive to those with a Prime membership.
There are coupons for those daily products you use like shaving cream, baby items, lawn and garden, and more.
If you shop on Amazon, it's worth taking a look at to get good deals on their site.
Pros
A great way to save more on Amazon.ca
Easy to capture coupons and use them
Cons
Some offers only available for Prime members
Only applicable on Amazon products
14. Flashfood
Flashfood is a coupon app for Canada that not only offers discounts but also helps fight against food waste.
It will let you know where to buy meat and produce that's nearing the best before date so you can get them at a cheaper price.
Pros
Easy-to-use app that tracks deals in your local area
You can save up to 50% on groceries
Cons
It's just for food that has an expiry date
15. Dealhack.ca
Dealhack.ca offers promo codes, coupons, and sales. It also has an extension for chrome so you'll get those necessary notifications on deals you care about.
Plenty of brands are showcased like Walmart Canada, Mac, Lululemon Merrell, and so much more.
There are deals of the day displayed and you can even save some cash on food delivery in your local area.
This is a coupon site you'll want to check out for sure. Just copy and paste the deal and print it out.
Pros
A massive selection of savings
Chrome extension
Cons
16. Reebee
Reebee is a platform that allows Canadians to get in on that extreme couponing everyone loves to do.
You can browse flying from hundreds of retailers and get the best deals in your area. You'll save on a variety of items with the huge collection of Canadian flyers.
This includes special promotions, sales, discounts, and deals. As one of the best discount apps, Reebee lets you compare prices and deals.
Pros
User-friendly
Huge selection of coupon offers
Cons
It's hard to find anything wrong with this site, it has everything you need
17. Red Flag Deals
Red Flag Deals offers coupon codes as opposed to printable coupons. You can get coupon codes for big brands like Coach, Dell, and Under Armor.
It's different from some of the other coupon sites in Canada because you can use it through a smartphone app. You can also check out store-specific flyers.
Pros
Has an easy to use app
High end brand deals
Cons
Doesn't have printable coupons
18. Canadianfreestuff.com
If you're looking to get free samples, Canadianfreestuff.com is worth checking out. They're well-established and have been around since 1999.
When you subscribe, you'll get notifications for new and current deals and offers. Click on the offers and you'll be redirected to the store offering the deal. You can click on a contest to get some big prizes as well.
This is one of the best coupon websites in Canada with some extras for those who love to shop.
Pros
Robust site with plenty of offers
Contests and free rebate offers
Subscribe and get deal notifications
Cons
You have to do surveys to get the free stuff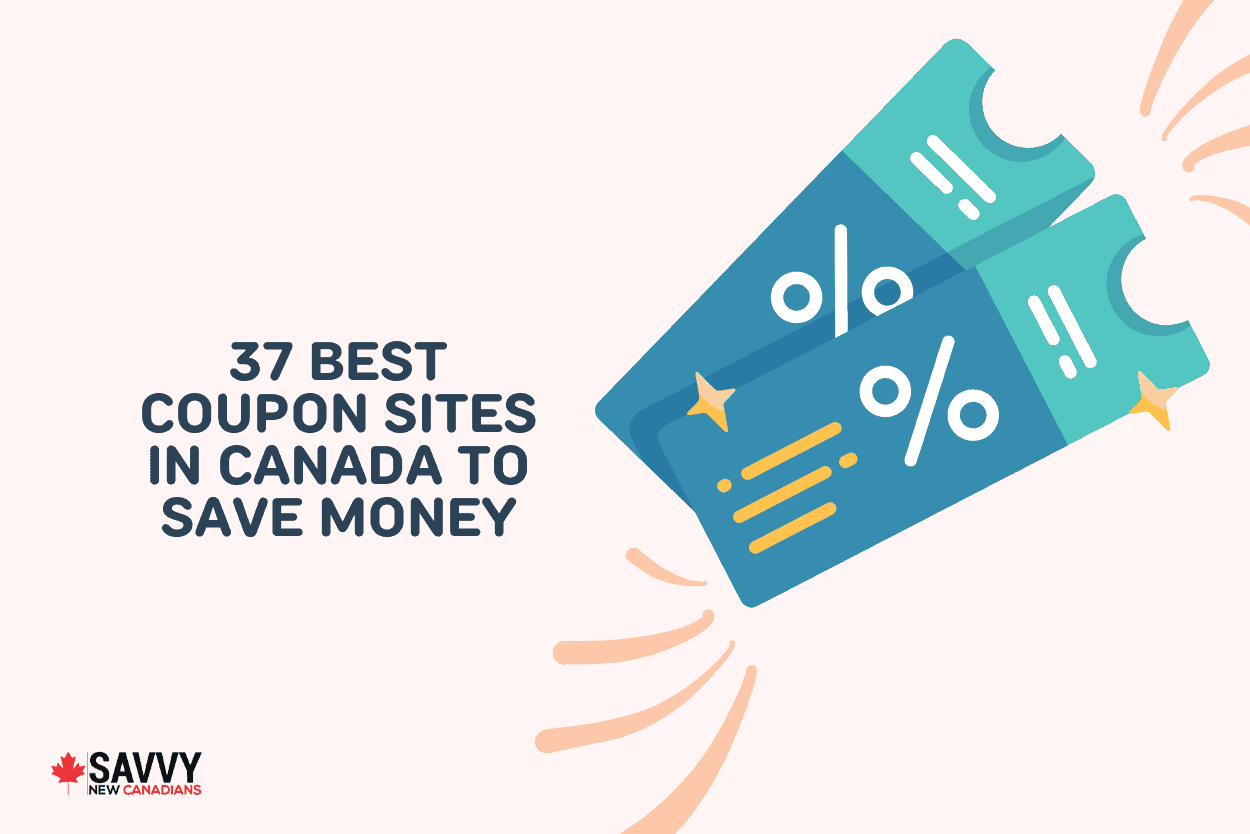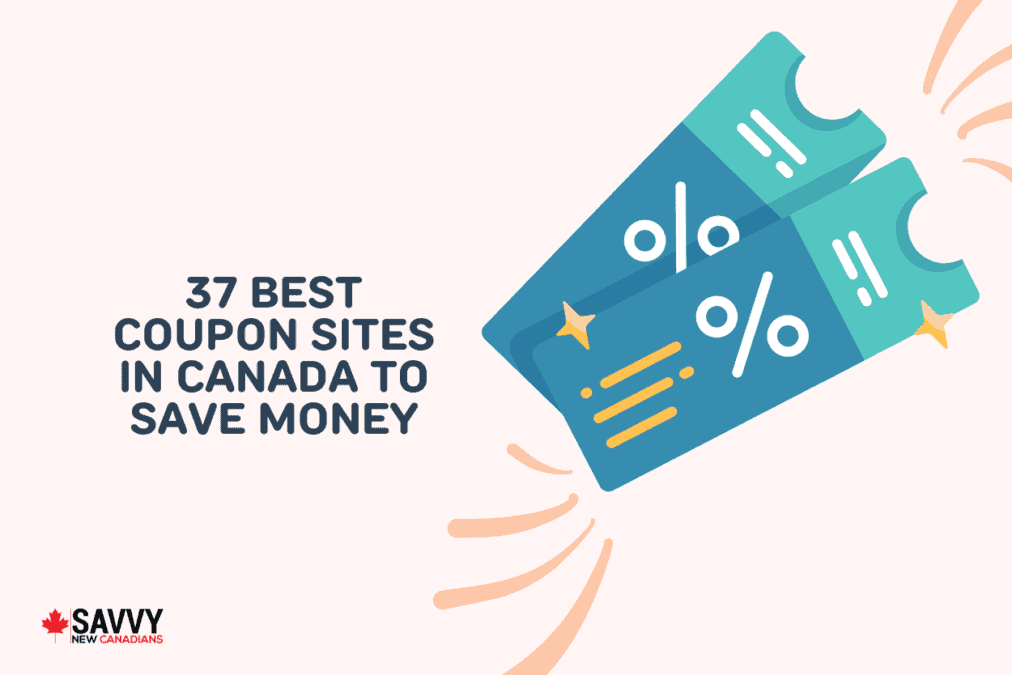 Free Coupon Websites for Canadians
19. Checkout 51
The Checkout 51 app is a cash back, rewards discount apps option. You can save and get rewards on grocery shopping, gas, and other online shopping options.
It's free to download and has a simple layout, making it easy to use. You just browse around and choose the offers you like in the app.
Then you upload a photo of your receipt to verify your purchase.
Pros
Cons
20. Go Coupons
Go Coupons is a top coupon site for groceries.
They include coupons for groceries as well as recipes. There's a free downloadable app where you can browse through deals, choose what you like, claim, and upload receipts.
When your receipt is approved, you cash out and they send you an offer. When you buy, you get rewards.
There are printable coupons as well.
Pros
Earn rewards when you shop
You can buy items at any store
Cons
21 P&G Good Everyday
P&G Good Everyday is a good coupon website for your everyday needs. The brand has created an immersive experience to save you money.
Take quizzes and surveys to earn points and collect them to then use for products at a discounted price.
As you earn, they also donate so you're also contributing back. This program has enabled them to enhance the lives of millions.
Pros
You earn points while they donate to worthy causes
Over 60 brands in the P&G corporation
Cons
Only everyday items are available
22. Kraft Canada Coupons
While Kraft Canada doesn't seem to have coupons on its site at the moment, the best coupon websites offer plenty of Kraft brand coupons.
23 Free Stuff Finder
Free Stuff Finder is a huge coupon site in Canada with so many different categories to choose from. You can get free stuff, deals, and coupons. From Walmart to Uggs, you'll get in on all the top deals online.
Pros
Huge site with a variety of options
Cons
It's quite a busy interface
24. Tasty Rewards
Tasty Rewards is a fun, immersive site that offers coupons, contests, giveaways, and much more. You can also use the site for recipes.
Pros
Recipes, contests, and coupons
Cons
25. Save a Loonie
Save a Loonie offers so many things it's almost hard to focus. You can get free samples, get cashback on the app, get in on contests, grab coupons, and much more.
It's free to join and there's an app as well.
Pros
Big site with plenty on offer
Cons
A lot of ads that make the pages too busy
26. A&W Coupons
A&W Coupons page is super simple and it's easy to grab the deal. The coupons can be accessed right away.
You can download and print and get the deals. It usually involved a 2 for 1 deal on meals.
27. KFC Canada Coupons
Easily download the latest KFC Canada coupon and feed the family for the deal of the week.
28. A&W Coupons
Get your A&W coupons quickly and easily on their coupon page.
Just download and print it out, take it to the restaurant and get the deal. It's that simple.
29 LoveCoupons.ca
LoveCoupons.ca has a huge list of categories you can grab coupons for. This includes anything from handmade local soaps in Canada to travel.
They offer things like Black Friday deals and keep you in the know of any big savings you can get.
There are over 2,000 brands participating on the site.
Pros
Huge site with many participating companies
Cons
Can't purchase deals directly through them
30 Bargain Moose
Bargain Moose is a well-set-up site that offers coupons for a variety of categories like Sports and Outdoors, Tech and Office, Kids Toys, Clothes, Food & Drink, etc.
Pros
Really organized site
Helpful blogs and recipes
Cons
31. Smartcanucks.ca
Smartcanucks.ca is another Canadian coupon site that's worth checking out. Its interface isn't that fancy but it has a huge list of participating brands.
There are deals, coupons, flyers, stores, and Amazon.ca has its own category as well.
Pros
Cons
The site isn't that organized
32. Everysaving.ca
Everysaving.ca is one of the smaller coupon sites in Canada with just over 100 participating stores.
They offer different deals every day where you can collect coupons, get promo codes, and save money while shopping online.
Pros
A good site with some great deals for Canadians
Cons
Smaller site compared to others
33. Lifemadedelicious.ca
Lifemadedelicious.ca is one of the Canadian foodie coupon websites with beautiful recipes and coupons.
The brand information is available as well with some contests and coupons to get in on.
Mainly, it's a recipe page but there are a few ways to get some deals as well.
34. Walmart Canada Coupons
Walmart Canada has a section where you can grab coupons of all kinds. This is where you can save money when you're shopping online at Walmart.
It's simple and easy to grab coupons and apply them to products you have in your cart.
Pros
If you're buying at Walmart, this is a great section on the site
Cons
You can only use one coupon per order
35 Valpak
To get Valpak coupons, you need to use the Coupert link, i.e. the Canadian subsidiary. Add the chrome extension for free.
When you install the app, you apply all of the working codes automatically at checkout.
Pros
Massive site that seeks out coupon codes automatically for you
Cons
You have to install the chrome extension to get into the site
36. Free.ca
Free.ca offers awesome coupons and free samples. There are contests and rewards as well, giving you all the benefits you want from the best discount sites in Canada.
Pros
A great spot for savings of all kinds
Cons
Old interface with a lot of ads
37 Wagjag
This limited-time deals site is out of Toronto and has been around since 2009. You can get deals on travel packages and local events as well as reduced prices on all sorts of goods.
Also, get discounted admissions for family attractions around Canada. They offer plenty of categories to make it easier to find what you're looking for.
Pros
Get discounts on attractions in your local area
Other Places To Get Free Coupons in Canada
Magazines
You can often find free coupons in magazines that are in line with the topic of the magazine. If you're into hiking, they might offer discounts and coupons on gear for example.
Company Websites
Check out the site of the brand you like. They may have a section for coupons or you can check out their sale section.
Product Boxes
Get in on monthly subscriptions of product boxes to get the free stuff you want.
How To Maximize Coupon Savings
First, you want to determine what products you really need. Extreme couponing can lead you to buy things you didn't actually need or want.
It's important to go in with a vision of what you need and what's not important. Couponing in Canada is easy with the apps available.
We suggest choosing your favorite discount apps and installing them on your phone. It's also a good idea to subscribe to a site that will send you offers.
Some of the sites on our list are so intuitive that they can compare deals, making it easy for you to figure out what the best price is.
Coupon Sites Canada FAQs
What is the best place to find coupons in Canada?
There are many great options for coupons in Canada but the larger names we've included are the best. This includes free.ca, freecanadianstuff.com, and Reebee are some of the most outstanding sites to get coupons in Canada.
What is the best coupon site in Canada?
It really depends on the kind of deals you're looking for. If you're into fashion, Rakuten is great. If you're looking for all-around deals, Groupon is great as well.
Is extreme couponing worth it?
If you have the time to do extreme couponing, you can save on everything you need. As long as you maintain a sense of control and mindfulness, buying things you need and not just purchasing because you can get a deal on it.
Do coupons really save you money?
Yes, you definitely save money with coupons as you don't have to pay full price. There are different types of coupons as well. Some will save you more than others. The best type of coupon gives you money off when you purchase. You may have to break down 2 for 1 deals to figure out if they're really going to save you money.
Related: