Learn about the best Canadian 5G stocks and whether 5G stocks are a good investment for your portfolio.
Our reliance on smartphones has grown stronger with each passing year. While some people like to invest in the smartphone producers like Apple or Alphabet, there is a solid case to be made for investing in 5G infrastructure instead.
What is 5G? It stands for the Fifth Generation of wireless networks. It is the fastest network with extremely fast processing speeds that power internet connectivity with wireless devices.
The introduction of 5G has allowed for the development of technologies like artificial intelligence, the Metaverse, and autonomous vehicles.
In Canada, 5G networks have been here since 2020. Today, every wireless provider in Canada offers a 5G network for its customers, which is a complex task considering how vast the geography of Canada is.
Best 5G Stocks in Canada 2023
1. BCE Inc.
Here are some key facts about this stock:
BCE Inc, more commonly referred to as Bell, is Canada's largest telecom company by market capitalization. Bell uses fibre technology and has twice as many 5G cell towers as the second largest provider, Rogers.
By the end of 2022, Bell plans to have more than 40% of all Canadians covered under its 5G networks. The top speed of its 5G network is 1.7 Gbps in Canadian cities, and Bell is also the first Canadian provider to offer international 5G roaming coverage.
This stock has posted a modest loss over the past 52 weeks, but the real attraction right now is BCE's generous dividend yield of 5.83%, which is paid out every quarter.
2. Telus Corporation
Here are some key facts about this stock:
Telus Corporation is Canada's second-largest 5G network provider. The company has a major market share in Western Canada, particularly in British Columbia and Alberta.
If you are looking to invest in Canada's fastest mobile network, Telus deserves your attention. Telus is one of the best 5G stocks in Canada, especially when you consider that you receive the 5.02% dividend as well.
3. Rogers Communications
Here are some key facts about this stock:
Rogers is the third-largest telecom provider in Canada by market cap. The company is also well-known as a media company that owns a major share of Maple Leaf Sports and Entertainment and the CTV and Sportsnet cable channels.
It actually has the largest 5G network in Canada, ahead of both Bell and Telus. Rogers' network reaches over 1800 communities and over 27 million Canadians daily.
4. Quebecor Inc
Here are some key facts about this stock:
Quebecor is a Canadian telecom company that primarily serves citizens of the Province of Quebec. The company made a surprise decision to invest heavily in 5G networks across the country, showing it eventually wants to expand outside of Quebec.
This stock provides exposure to both the telecom and media industries. Quebecor owns several cable channels and the two largest newspapers in the Province.
The market capitalization of Quebecor is considerably smaller than the Big Three telecom providers in Canada. Shareholders do receive a 4.28% quarterly dividend payment that continues to grow. Quebecor's stock has been a Dividend Aristocrat in Canada for a few years.
5. Sierra Wireless, Inc
Here are some key facts about this stock:
Sierra Wireless is not a telecom company; rather, it produces communication equipment for use with 5G networks. The company is based out of Richmond, British Columbia and was founded in 1993.
It sells many different products, including wireless routers, mobile broadband devices, M2M cloud devices, and wireless gateways. Sierra Wireless is more of a growth investment than the other blue-chip telecom stocks and does not currently pay dividends.
6. Shaw Communications Inc
Here are some key facts about this stock:
Shaw Communications is a Canadian internet and cable services provider that operates primarily in Western Canada. It has also recently offered Shaw Mobile services to Canadians to expand its market share.
You would be right in pointing out that Shaw currently does not offer 5G services to its customers. The company has invested in 5G network infrastructure and is looking to add services in the near future. The proposed takeover by Rogers Communications likely delayed Shaw's 5G plans.
This stock is a great dividend payer as shareholders receive an annualized 3.25% yield paid out every month.
7. Blackberry Ltd
Here are some key facts about this stock:
To many Canadians, Blackberry is a blast from the past. The Canadian company used to be a major player in the mobile phone industry but has since lost favour to companies like Apple.
Today, Blackberry focuses on software and cybersecurity services that utilize 5G technology and devices. The company is heavily involved in technologies like the Internet of Things (IoT) and autonomous vehicles.
How to Buy 5G Stocks in Canada
If you want to buy 5G stocks in Canada, you can do so on any of the major brokerages.
To save on fees, use a discount broker like Questrade. It offers commission-free trading for ETFs, and you get low competitive fees for stocks and other assets.
Questrade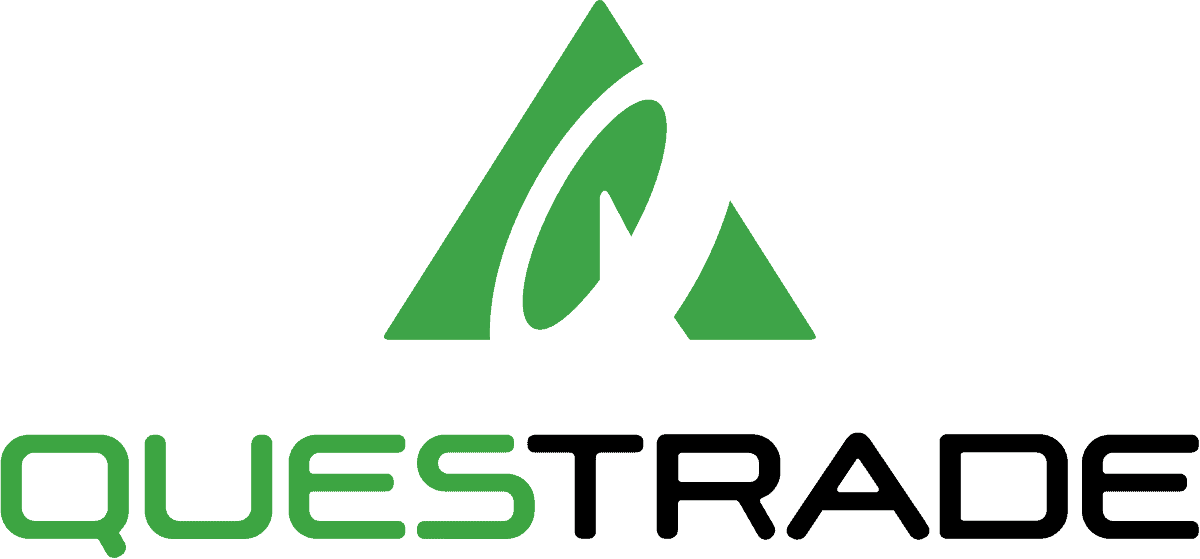 On Questrade's Website
Fees: Buy ETFs commission-free and stocks at $0.01 per share
Account minimum: $1,000 to start trading
Promotions: Get $50 in free trades
What are 5G Stocks?
5G stocks are the publicly traded assets of companies involved in the 5G industry. These include telecom service providers and companies involved in 5G infrastructure.
This sector can be expanded further by including companies that use 5G for their own technology, like artificial intelligence or autonomous vehicles, and even semiconductors and chip makers. Many of these latter stocks are listed on US exchanges and not in Canada.
What to Consider When Investing in 5G Stocks
As with most technologies, we always want to consider companies that show they will grow with the industry.
In Canada, these companies include the big telecom brands that dominate the sector. These are blue-chip stocks that are in a regulated industry with little competition.
Consider if you are interested in investing in these telecom services or in the technology of 5G itself. Telecom stocks are safe, but technology stocks can provide higher growth in the future.
Are 5G Stocks a Good Investment (Pros and Cons)?
Given our reliance on high-speed internet and mobile phones, the 5G industry is becoming an important one to invest in. Not only do Canadian telecom companies have an oligopoly, but they will almost certainly be the ones to introduce 6G technology in the future as well.
When looking at 5G stocks in Canada, the big telecom companies make up the bulk of the sector. While they might not produce a ton of growth, they do pay high dividend yields.
Remember, as with any stocks, investing in Canadian 5G companies does have its risks. Always do your own research into investments and use this article as a starting point and not financial advice.
Downsides of Investing in 5G Stocks
As with most industries, high concentration with a few companies is both a blessing and a curse. On the one hand, there is little competition from other companies, but on the other hand, little competition means little choice in price and services for consumers.
As new as it is, 5G technology will be replaced one day. Telecom companies will likely keep their business and customers, but it is not a guarantee for more speculative tech companies.
Conclusion
5G technology is a critical component of the future of many different technologies. While most people will think of it as mobile network services, there is a long list of sectors that use 5G.
Investing in 5G is an investment in our continued reliance on high-speed internet and smartphone usage, as well as the development of other cutting-edge technologies.
FAQs
What is the largest 5G network in Canada? 
The largest 5G network in Canada is owned and operated by Rogers Communication. This network reaches over 27 million Canadians. 
Which stocks will rise due to 5G technology?
In Canada, telecom and technology stocks that use 5G technology will benefit from improving 5G networks. 
What are 5G infrastructure stocks? 
5G infrastructure stocks build the technology that 5G networks use. This could mean anything from semiconductors to cellular towers to wireless modems or routers. 
Who is the leader in 5G technology?
The leaders in 5G technology are the major tech companies, including Samsung, Apple, NVIDIA, and Cisco.