While the Acorns investing app started off as a micro-investing app, it has grown to be much more than than that.
Using the app, you can invest your spare change, save for retirement, open a checking account, invest for your kids, earn cash back from your favourite retailers, and more.
If you have found it challenging to start investing for your future, an automatic investing app like Acorns can get you started.
That said, is the Acorns app available in Canada? If not, what alternative investment apps provide similar benefits?
Is Acorns Available in Canada?
Unfortunately, Acorns is not available in Canada.
As per the company:
Acorns is available only to United States residents who are at least 18-years-old and have a valid social security number.
Exceptions are made for active armed services personnel who are deployed overseas on a temporary basis and maintain a U.S. address.
Acorns was previously launched in Australia in 2016 and operated as Acorns Grow Australia Limited. The company's Australia operations was recently rebranded as Raiz Invest.
What is Acorns?
Acorns is an automatic saving and investing app created by a father and son duo, Walter and Jeff Cruttenden, and launched in 2014.
It is very popular in the United States and has more than 8 million users.
The Acorns app allows its users to easily invest small amounts of money in a diversified portfolio made up of Exchange-Traded Funds.
In addition to investing, Acorns offers a variety of features depending on the plan you sign up for. For example, users can also opt for a spending account with access to thousands of fee-free ATMs, and earn rewards at over 350 top brands.
As of December 2019, Acorns has raised over $207 million from investors, including the likes of PayPal, BlackRock, Bain Capital, Rakuten, and several celebrities.
The company has two Nobel Laureates on its advisory board, including Harry Markowitz and Richard Thaler.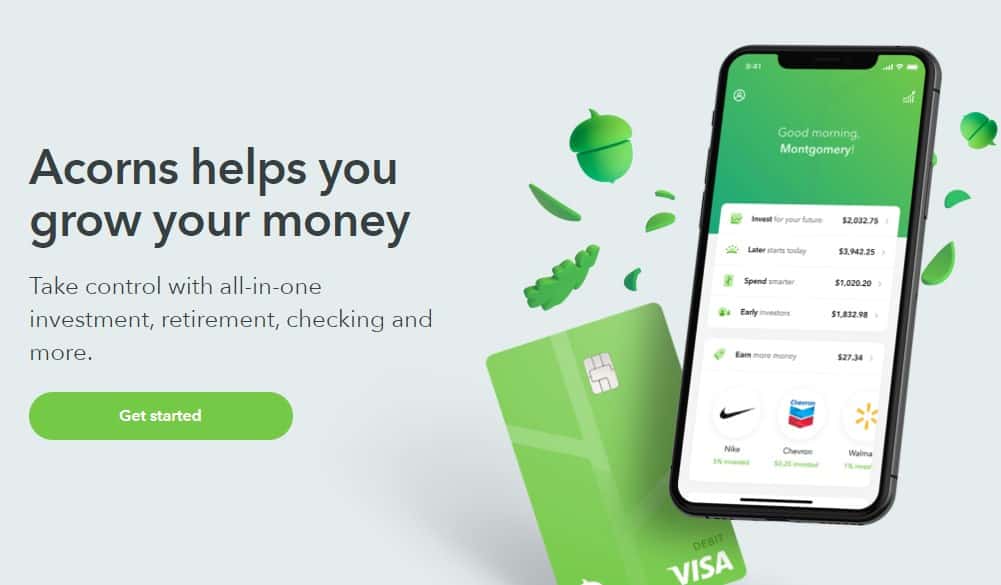 Features and Benefits of the Acorns App
Key features and benefits provided by Acorns include:
Spare Change Investing: Acorns automatically rounds up your purchases and invests the difference. You can also choose to invest lump-sums or set up recurring contributions.
Acorns Later: This service offers an automated way to invest using a tax-advantaged Individual Retirement Account (IRA), starting with as little as $5.
Acorns Early: This option allows you to open an investment account for your kids. It is one way to open a custodial investment account for your child and invest for their future.
Acorns Spend: This checking account comes with a tungsten metal debit card and access to 55,000 free ATMs.
Acorns Earn: You earn cash back when you shop using your linked debit or credit card, or invite a friend. What you earn goes into your investment account.
User-friendly App: The Acorns app is available on the App Store where it has a 4.7/5 rating from over 660,000 reviews. On the Google Play Store, it is rated 4.4/5.
Security: Acorns is a member of the Securities Investor Protection Fund (SIPC) and your investments are protected up to $500,000. Deposits in Acorns Spend are FDIC-insured up to $250,000.
Where Acorns Falls Short
Acorns charges $1 per month for a Lite account; $3/month for Personal, and $5/month for a Family account. If you are investing only your small change, this fee structure becomes expensive over time.
For instance, say you only subscribe to the spare change investing feature at $1/month and end up putting away $20 each month or a total of $240 for the year.
Your annual $12 fee would amount to 5% in fees. This is a lot more than what a robo-advisor like Wealthsimple charges (0.40 to 0.50% per year).
Also, Acorns does not offer a high yield savings account.
Alternatives to Acorns in Canada
The two main alternatives to Acorns in Canada are Wealthsimple Roundup and Moka.
Wealthsimple Roundup is a feature of the Wealthsimple robo-advisor app, and Moka is a micro-investing app with a few other features.
Read on to see how they compare.
1. Wealthsimple Roundup
Wealthsimple is Canada's largest robo-advisor or online wealth manager as they are also known.
You can use the platform to invest on autopilot using low-cost ETFs that are already diversified across bonds, stocks, and countries.
Wealthsimple clients enjoy automatic contributions, dividend reinvesting, automatic rebalancing, free financial advice and access to a versatile app.
Key features of the Wealthsimple investing platform include:
$1 Account Minimum: You can open an account with as little as $1.
Wealthsimple Roundup: This feature rounds up your purchases to the nearest dollar and invests the difference in your account. There are no additional fees to use Roundup.
Wealthsimple Overflow: This innovative feature automatically invests your extra cash. Simply set your desired bank balance and Overflow will do the rest.
Socially Responsible Investing (SRI): Want to invest according to your values? Wealthsimple offers SRI portfolios that have been assessed for their social and environmental impact. It also offers Halal portfolios to adherents of Islam.
Multiple Account Types: It offers investing in a TFSA, RRSP, RESP, RRIF, LIRA, joint and business investing accounts.
Securities: The funds in your Wealthsimple account are held by Canadian ShareOwner Investment Inc., a member of the Investment Industry Regulatory Organisation of Canada (IIROC). This custodian is insured up to $1 million through the Canadian Investor Protection Fund (CIPF).
User-Friendly Mobile App: You can access your account using the web interface or mobile app. The mobile app has a 4.4/5 rating on the App Store, and 4/5 on Google Play.
Pricing: You pay 0.40% to 0.50% per year in management fees
Promotion: When you open a new account here and invest at least $500, you receive a $50 cash bonus.
In addition to its managed investing service, Wealthsimpe also offers a no-fee brokerage platform (Wealthsimple Trade) and cash account.
Where Wealthsimple Falls Short
Wealthsimple's management fees are a lot lower compared to traditional mutual funds. That said, they are not the lowest for the robo-advisor industry in Canada.
2. Moka App (Formerly Mylo)
Moka was the first dedicated spare change investing app in Canada. It was formerly known as Mylo and rebranded to Moka following its expansion to France.
The Moka app is used by more than 750,000 Canadians and has been around since 2017.
Some of its main features include:
Invest with Roundup: When you open an account and link your bank account, the app automatically rounds up your purchases and invests your spare change in a diversified professionally-managed portfolio.
You can also set up recurring contributions from your chequing account so you can reach your financial goals faster.
Multiple Accounts: Moka offers non-registered and registered investment accounts, including the TFSA and RRSP.
Socially Responsible Investing: You can use the Moka SRI fund to invest in companies that are addressing major social and environmental challenges.
Moka 360: This premium service by Moka offers a tonne of benefits including:
Bill negotiation: Moka will help you get a better price for your phone, cable and internet service. Users can save up to $250 per year, and it is automatic.
Pay off Debt: Get a personalized debt repayment plan with strategies for getting out of debt fast.
Earn Cash Back: A regular Moka user has access to Perks and cash back when they shop with Moka 360, you get double the rewards.
Get Financial Advice: You can connect with a financial advisor to get honest and unbiased advice.
Security: Your Moka account is not CIPF insured, however, your funds are held with a custodian (Fidelity Canada Clearing) which provides CIPF insurance.
Pricing: A regular Moka account costs $3 per month and a Moka 360 account costs $15 per month.
Where Moka Falls Short
Similar to Acorns, Moka's monthly fees are on the high side if all you do is invest your spare change. Assuming your monthly roundups amount to $30, the $3 monthly fee results in a 10% fee per year.
If you are making regular or lump-sum contributions along with roundups, the fee impact would be lower. Add in the cash back benefits, and it could be a money-saver.
Moka 360 has a whopping $15 monthly fee. That said, this service comes with a 200% guarantee on the fees paid. If you don't save at least what you pay for a year of Moka 360, they will deposit $360 in your Moka account.
Wealthsimple vs. Acorns vs. Moka
The table below compares Wealthsimple, Acorns, and Moka.
| | Wealthsimple | Acorns | Moka |
| --- | --- | --- | --- |
| Account minimum | $0 | $0 | $0 |
| Fees | 0.40% to 0.50% per year | $1/month for the Lite plan; $3/month for Personal; $5/month for the Family Plan | $3/month for regular Moka account; $15/month for Moka 360 |
| Available in | Canada, the United States, and the United Kingdom | United States | Canada and France |
| Accounts offered | RRSP, TFSA, RESP, RRIF, non-registered personal, Joint, and Business; Cash account | Personal taxable, IRA; kids investment account | TFSA, RRSP, and personal non-registered |
| Investment types | ETFs | ETFs | ETFs |
| Roundup investing | Yes | Yes | Yes |
| Mobile app | Yes | Yes | Yes |
| Desktop (web) access | Yes | Yes | No |
| Other features | Socially responsible investing (SRI), Halal portfolios, VIP accounts, self-directed trading account, cryptocurrency trading via Wealthsimple Crypto; high-interest savings account | Checking account; with debit card, cash back offers from partner brands | Moka 360 includes bill negotiation, debt repayment strategies, cash back offers, and financial advice |
| Promotion | Get a $50 cash bonus when you open an account and fund it with at least $500 | Get $5 when you sign up | Get $5 when you sign up |
| Apply | Wealthsimple | Acorns | Moka |
| Account review | Learn more | – | Learn more |
Acorns Canada FAQs
In which countries is Acorns available?
Acorns is only available to U.S. residents who have a valid social security number and are at least 18 years old.
In which countries is Wealthsimple available?
Wealthsimple offers wealth management services in Canada, the United States, and the United Kingdom. Its cash account and trading app (Wealthsimple Trade) are only available in Canada.
In which countries is Moka available?
The app is available to residents of Canada and France.
What are the best spare change apps?
Moka and Wealthsimpl Roundup are the top apps for investing your spare change in Canada. You can also use the KOHO App's Roundup feature to set money aside; however, it does not go into an investment account.
Is my money safe with Wealthsimple, Moka, or Acorns?
The funds in your account with Wealthsimple and Moka are held with custodians who offer CIPF protection. The securities in our Acorns account are protected against insolvency by the SIPC up to specified limits. That said, there's always a risk that you could lose money when you make an investment.