There are many easy ways to save money around your home – from small savings on your utility bills to big savings on your mortgage.
These 20 smart money-saving strategies below can help you improve your finances without drastically changing your lifestyle.
1. Cut Your Water Bill
By reducing your water usage, you will save on your water bill as well as reduce your environmental footprint. Common ways to cut your water usage include:
Install low-flow fixtures – faucets, shower heads…
Take shorter showers
Time your lawn watering's
Update older model toilets
Run full loads in the dishwasher and clothes washer
Mulch your garden
Install a rain barrel
Repair water leaks ASAP
There are a lot of savings to be had by conserving water. For instance, low-flow fixtures can save between 25% to 60% in water usage.
Potential savings: $$ per year
2. Rent Out a Room
Become a landlord and rent out your empty room to save money that can go towards paying down your mortgage, offsetting your utility bill, or paying part of your property taxes. Even part-time renting is easy these days with Airbnb.
You can place your available room advert on Kijiji, Easy Room Mate, Roomlala, Rentometer, Spareroom.com, and Trulia. Do a credit and background check whenever possible to avoid tenants from hell!
Potential savings: $$ to $$$ per year
3. Pay Off Your Mortgage Faster
Put down additional mortgage payments and keep more money in your pocket over the life of your mortgage. Strategies to pay off your mortgage faster include:
Accelerate your payments such as with accelerated weekly or bi-weekly payments
Make annual lump-sum payments
Round-up your normal mortgage payments
Refinance for a lower mortgage rate and keep your payments the same
Put cash windfalls (bonuses, commissions, inheritance) towards paying down your mortgage
Potential savings: On a 25-year $400,000 mortgage at 2.64%, if you put down an annual lump-sum of $5,000, you will save over $39,000 in total interest payments and lower your amortization by about 6 years!
Related: How To Pay Off Your Mortgage 10 Years Early
4. Get a Competitive Mortgage Rate
You will be surprised at how many people default to their current bank when they want to obtain a mortgage loan or other credit facility. Always shop around!! Loyalty is great, but your bank will not always offer you the best rate possible.
I know this for a fact because my line of credit and mortgage are from financial institutions that are totally different from my day-to-day bank. This is because I received better offers elsewhere.
Potential savings: On a $400,000 mortgage loan, a 0.25% point difference in the mortgage rate (for example, 3.00% vs. 3.25%) over a 5-year term is an additional $3,120 out of your pocket or over $600 per year.
Compare rates and terms across several providers – read the small print.
Canada: Homewise, IntelliMortgage, and Ratehub

US: Smart Asset, Nerd Wallet, and Bank Rate
5. Go With a Variable Mortgage
Numerous studies have shown that you will likely pay less in overall interest when you go with a variable mortgage rate. One such study is the one by Dr. Milevsky.
If you can bear the occasional hike in rates and stick with variable rates throughout the life of your mortgage, the odds say you will save lots of money.
Potential Savings: $$$ per year
Related: Variable vs. Fixed Rate Mortgage
6. Reconsider Mortgage Life Insurance
When you obtain a mortgage, the bank will try to sell you mortgage life insurance as well. Decline it and use well-packaged term-life insurance to protect your mortgage instead. Mortgage life insurance is expensive and is a declining benefit. The bank is well covered… you, not so much.
For $50,000 more coverage (i.e. plus our mortgage amount), we were able to obtain term-life insurance that was 47% cheaper than the mortgage life insurance we were offered.
Potential savings: $$ to $$$ over the life of your mortgage ($$$).
7. Save a 20% Down Payment
In Canada, a 20% down payment means that you do not have to purchase CMHC Insurance with your mortgage (In the U.S., it is referred to as Private Mortgage Insurance – PMI).
On a $400,000 purchase price, this can translate into an immediate savings (maximum) of $15,200 in additional mortgage insurance.
A bigger down payment on your home may also help you qualify for better rates that significantly lower your monthly mortgage payments.
Potential savings: $$$ per year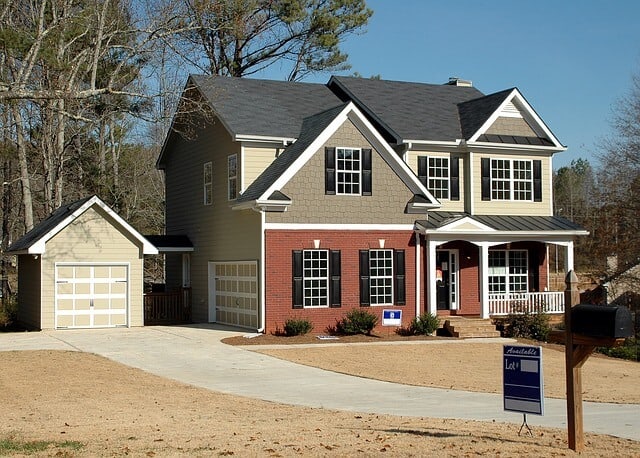 8. Ditch Incandescent Lighting
Replace incandescent bulbs with compact fluorescent lamps (CFL) or light-emitting diode (LED) ones. LED and CFL bulbs will cost you more to buy, but they use much less energy and last for longer.
CFLs use 25-35% less energy compared to incandescent bulbs, and LEDs take the crown by using 75% less energy and lasting as long as 20 years or more.
Potential savings: $$ per year
9. Use Timers on Outdoor Lights
Installing timers on outdoor lights and those used periodically will cut your energy bill and save money. The "set it and forget it" nature of timers means you do not have to remember to turn on/off lighting, thus making life easy for you as well.
That said, remember to adjust timers as required for different seasons. For example, in summer, you may want outside lights to come on a few hours later (compared to winter) due to longer daylight hours.
10. Upgrade to Energy-Efficient Appliances
When replacing older appliances, go with the newer ENERGY STAR® rated versions to cut energy usage and save money (use 10-50% less). You will also get improved performance and they are better for the environment.
Replacing your pre-1994 washer could save you about $110 and replacing a pre-1986 refrigerator could save you about $158 per year in energy costs.
In some places, you may even get paid to get rid of your old inefficient appliances. For example, in Manitoba (Canada), MB Hydro will collect your old fridge/freezer to recycle them for free and pay you $50 for each one under their "Power Smart Refrigerator Retirement Program."
Potential savings: $$ per year
Related Posts:
11. Use a Smart Power Strip
Plug your electronics into a smart power strip to save on your electricity usage. Unlike regular power bars that need to be turned off manually or unplugged to stop electronics that are plugged in from using power, a smart power strip turns off electricity supply to electronics/appliances that are not in use.
The average US and Canadian home wastes about 450 Kilowatts of energy per year to phantom loads.
Most smart power strips also come with surge protection which protects your electronics from damage. The energy savings from cutting standby power usage (phantom loads) can vary between 5-10%.
12. Weatherproof Your Home
Whether it is summer or winter, there are many ways to make your house comfortable without breaking the bank
Winter:
Plug air leaks on doorways and windows by replacing worn weather-stripping and applying caulking where required. This can reduce your energy usage by up to 25%
Install insulation in your attic, basement, and other crawl spaces to reduce heat loss by up to 25%
Cover drafty windows and doors with insulation film
Open curtains during the day and let solar energy warm up your home for free
Summer: In addition to installing weather-stripping:
Close the curtain to keep radiant energy out
Use fans to increase ventilation and cooling
Service your air conditioner and set your thermostat as high as comfortably possible
Potential savings: $$ per year
13. Lower Water Heater Temperature
Many water heaters are set too high by default at 140 °F (60 °C). Lower the temperature to 120F (48.9 °C) and save up to 10% in energy costs.
Lowering the temperature will not only save you money every month, but it will also prevent the risk of scalding.
A temperature of 120 °F is considered to be generally safe as per Energy.gov. However, be careful about dropping your water temperature below 120 °F as this may expose you to some harmful bacteria.
Other tips for lowering energy usage by your water heater include:
Turn off the water heater when you are on vacation
Insulate your hot water tank
Insulate the first few feet of the hot water pipes leaving your heater
Potential savings: $$ per year
14. Dress For the Weather
Dress to suit the micro-climate within your home.
In winter, add up the layers to stay warm and you can dial down the thermostats and save money. You can save up to 2% of your heating bill for every 1 °C (1.8 °F) you turn down the thermostat in winter.
In summer, reduce the layers to stay cool and you can dial up the thermostat to save money.
Potential savings: $$ per year
15. Install a Programmable Thermostat
Programmable thermostats can save you money on your heating and cooling bills. These thermostats take the chore out of setting your home's temperature and can be set up with varying schedules to match your lifestyle.
For every 1 °C (1.8 °F) you lower your thermostat, you save up to 2% in energy costs. A properly set programmable thermostat can save you up to 20% on your annual heating and cooling bills.
16. Service Your Furnace and Air Conditioner
There are some fairly basic maintenance tasks you can perform to keep your furnace and air-conditioning unit in tip-top shape.
Furnace:
Replace furnace filter as often as required and generally every one to three months depending on the filter being used
Clean and vacuum away dust/debris regularly
Clean out air vents and registers…make sure they are not obstructed
Ensure intake and exhaust pipes are open
Air Conditioner:
Remove debris and ensure adequate air flow around the unit
Straighten bent fins using a fin comb
Ensure the condensate drain tube is not plugged
Insulate pipes
Power off and cover air conditioner in winter
Bring in a professional to inspect both of them if necessary. These maintenance tasks will not only lower your energy bills, but they can also prolong the life of your unit and you will avoid costly emergency repairs.
Potential savings: $$ per year
17. Plant a Garden
Cut your grocery expenses by planting a garden. Grow plants that are easy to manage and which are part of your regular cooking. Even if you do not have a backyard, a surface planter and containers can do the trick.
I built some surface planters using free wood pallets – see below. If you are using wood pallets, Ensure you only use those that have not been chemically treated (check the stamps).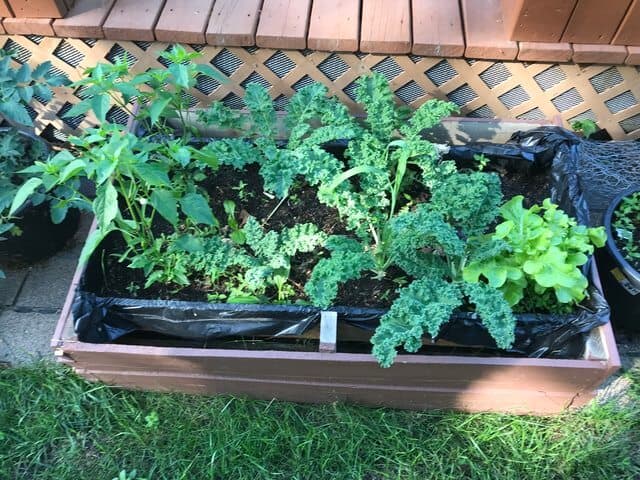 Some easy garden plants to grow include tomatoes, herbs (basil, thyme, parsley, cilantro), lettuce, kale, peppers, rhubarb, strawberries, and more. In addition to saving money, your kids will also get to appreciate where their food comes from.
Potential savings: $$ per year
18. Sell Your Clutter
Embrace minimalism and sell off items you do not need and which are cluttering up your home. Think outgrown kid's toys, clothes, car seats, books, movies, video games, shoes, bikes, furniture, old phones, small appliances, electronics…
Go online and see what they are worth by looking at what others are selling them for. Apart from yard/garage sales, online marketplaces where you can list your items for sale include:
Canada: Ebay.ca, Amazon.ca, Kijiji.ca, Craigslist, Facebook Buy and Sell groups, Letgo

US: Ebay.com, Amazon.com, Craigslist, Etsy, Cash4Books
Potential savings: $$ per year
19. Cut Cable or Trim It Down
Cutting the cord or trimming down to basic cable will save you lots of money. Cheaper alternatives (services) to watch some of your favourite shows include Netflix, Hulu, Amazon Prime Videos, Sling TV, and HBO NOW.
We cut the cord for a while and used Roku for Netflix. After moving to our new home, we have been on a one-year cable/internet/landline phone combo promotional offer for $59/month (regular price is $172/month) for over 2 years.
After the promo expired the first year, I called to cancel the service. Lucky me, they did not want to lose a customer and I was able to negotiate an additional year for the same package (plus a bonus premium channel). This is savings of $1,356 per year!
Rinse and repeat. As you can see, negotiation can also save you money with your current package.
Potential savings: $$ to $$$ per year
20. Automate Your Bill Payments
Automate your regular utility bill payments to ensure you do not miss a payment and get dinged with late payment fees.
Occasionally browse through your bill to ensure you are not getting ripped off and paying for services you do not have/use. Unpaid bills and late payments can damage your credit score.
Also Read: